Easy, Delicious Courgette Ribbon Salad Recipe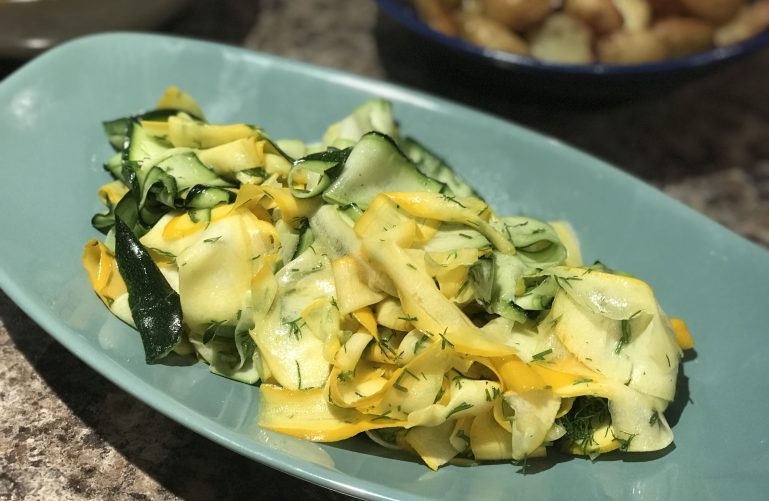 This super easy, light, refreshing salad is the perfect accompaniment to a BBQ, a pasta dish or anything that can do with a quick dose of ZING!
You simply cannot go wrong with this fool-proof recipe that tastes amazing and is just so good for you! Feel free to get creative with your own variations…like swapping dill and lemon for chilli flakes and lime – whatever your preference!
Being raw, nutritious and delicious it's a crowd pleaser and takes just 5 minutes!
SERVES 4
PREP TIME 5 MINS
COOK TIME 0 MINS
TOTAL TIME 5 MINS
INGREDIENTS
1 yellow courgette
1 green courgette
1/2 lemon (juiced)
Handful of dill (chopped)
1/2 tsp Himalayan salt / sea salt
Black pepper (to taste)
Healthy glug of extra virgin olive oil
STEP 1
Use a vegetable peeler to make wide, thin ribbons by dragging it from the top to the bottom of the courgette. Repeat on one side until you reach the softer inside where the seeds are and turn and repeat. When you are finished you should have a long, thin rectangle of courgette cores.
Zero Waste Tip: Save the cores of your courgetters to put into a stir fry or roast them with some other veggies. Check out my Sweet and Spicy Aubergine and Mushrooms dish where I used mine!)
STEP 2
Add your dill, salt, lemon juice, black pepper and oil then use your hands to thoroughly mix your salad and voila! It's ready to serve!
Top Tip: If you are pre-prepping your salad, don't add your lemon juice until just before serving.