Sweet and Spicy Aubergine and Mushrooms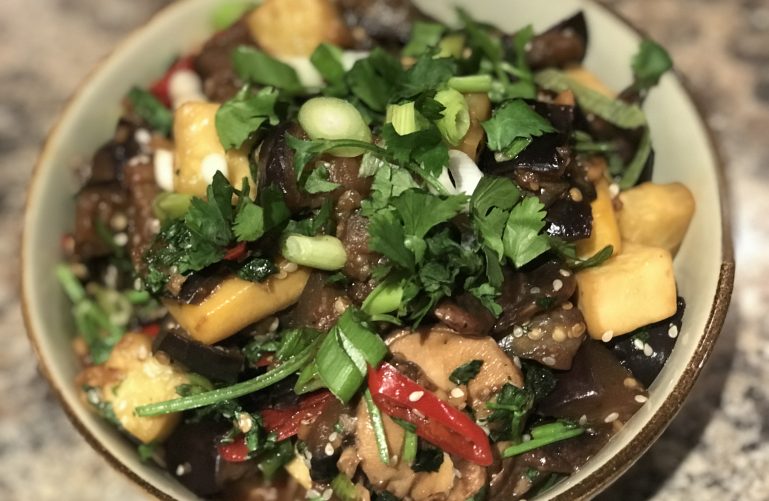 This dish incorporates two of my favourite vegetables, aubergines and mushrooms. Heavily influenced from all the years I've spent in Asia, expect powerful, fresh and punchy flavours with that underlying sweetness that South-East Asian cuisine is known for.
SERVES 4
PREP TIME 10 MINS
COOK TIME 20 MINS
TOTAL TIME 30 MINS
INGREDIENTS
2 small – medium sized aubergines (cut into 3/4 inch cubes) 
175g oyster mushrooms
1 and a half courgettes (I used up the 2 cores from my Easy Courgette Ribbon Salad and sliced them into squares)
1 tbsp rapeseed oil
1 tsp salt
1 tbsp tamari / soya sauce
1 tbsp apple cider vinegar
1 tbsp brown sugar / maple syrup
1/2 lime (juiced)
1/4 zest of lime
1 large mild red chilli (adjust as per your taste)
1 sq inch of ginger (minced)
1 clove of garlic (minced)
2 spring onions (sliced)
1 tsp sesame seeds 
Large handful of coriander (chopped)
STEP 1
Prepare your 3/4 inch cubes of aubergines and sprinkle them with salt then set aside as you prepare the rest of your vegetables. 
STEP 2
Heat a pan until it's very hot and add rapeseed oil. When the oil is hot, add the aubergines and reduce the heat to medium. Cook for 10 minutes turning regularly to ensure all sides are golden brown the centres are soft. 
STEP 3
Add chilli, garlic, ginger, mushrooms, tamari, apple cider vinegar, lime zest and a splash of water then cover and heat for another 3-4 minutes.
STEP 4
Add courgette cores (if you are cooking with whole courgettes and not just the cores then add these in with the mushrooms in step 3) and sugar then cover and cook for another 4 minutes.
STEP 5
Turn off the heat and stir through lime juice, sesame seeds, spring onions and coriander and serve with rice or noodles.