Being Vegan in Northeast India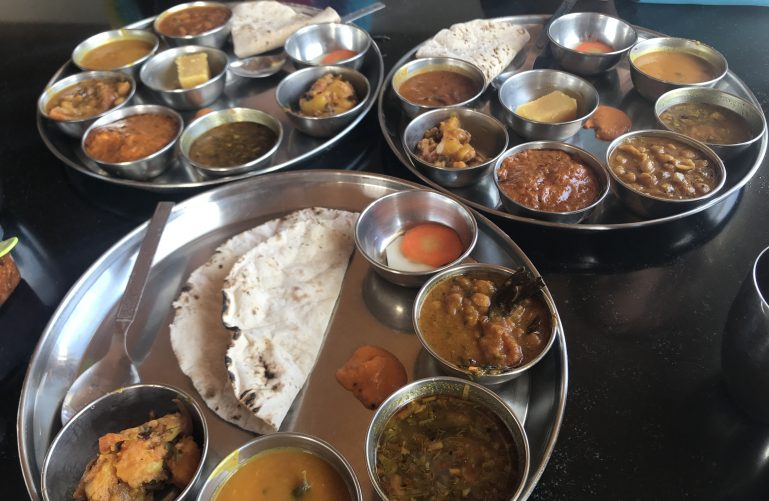 If you are reading this blog, you're probably already familiar with the usual struggles of travelling as a vegan/veggie either as a cyclist or regular tourist. Yes, it's sometimes challenging, but if we share information and prepare in advance, it's never impossible! Hopefully this blog helps with some region-specific info.
I've recently spent 3 months in the beautiful Northeastern region of India, home to the Seven Sister States and a LOT of meat and fish based delicacies!
Where religion makes the difference
I travelled through Manipur, Nagaland, a little bit of Assam and Meghalaya. Assam is a culturally mixed state but still predominantly Hindu so there are lots of veg options there, especially in Guwahati which is a very built up city. Whereas Manipur, Nagaland and Meghalaya are predominantly Christian states meaning unlike many Hindus, vegetarianism is not a part of their culture at all. In fact, in rural areas of Meghalaya, meat and fish is such a significant portion of their diet, I had to eat rice with salt on several occasions – not ideal. But in general, rice and dal is always available and if you travel like me, staying with locals, they will make sure they accommodate you.
The good news is that in all of the main travel hubs most people speak English making it very easy to explain your dietary requirements. In fact, I didn't even need to learn the local way to say I was vegan except in rural Meghalaya where things became significantly more challenging. There, the primary local language is Kasi which was brought over by the Welsh, so despite having the same alphabet as ours, the words are extremely hard to pronounce!
Here's my phonetic (what it sounds like rather than what it's spelled like) dictionary for useful food terminology in Kasi language:
I am vegetarian – nya bam dtang kidjar
No meat – nyam bam dhor
No fish – nyam bam dhor kaah
No milk – nyam di doodh
No egg – nyam bam pulang
No butter – nyam bam moch-un
There is a wide selection of fruit everywhere except Meghalaya (although that may be more season-based) where they have less especially in smaller towns. You can still expect to find bananas (of course!) and oranges.
Fun fact! Nagaland is made up of individual 17 tribes that all speak different local languages. That's why a modern common language, 'Nagamese', was invented to help everyone to understand each other. It's a mixture of Assamese, Bengali and Hindi. You can learn more about the tribes of Nagaland if you attend Hornbill Festival – a spectacular 10 day display of eclectic cultural heritage through food, music, art, performance and crafts held from 1st to 10th of December. It's such an incredible experience and a must-see if you're in the area around that time! You can read about my time at Hornbill Festival here.
Things you'll notice
Being predominantly Christian (Meghalaya, Nagaland and Manipur), everything shuts early on a Sunday, so make sure you've eaten before or stocked up before you get caught out, especially if you're camping in small villages!
Nagaland is home to the King Chilli and Assam to the Ghost Chilli meaning you can expect to feel the heat in your food! Make sure you explain that you don't want it spicy if you can't handle it!
The veggies (especially in Nagaland) are often served boiled – a green, watery vegetable they call squash is most popular. This is obviously vegan and often what people assume you are able to eat (they literally cannot fathom the concept of vegetarianism!). Explain you can eat curry the same as them just no meat, fish, etc, otherwise you will be served boiled veg everywhere.
Ghee (clarified butter) is not commonly used in this region (unlike elsewhere in India) as it is expensive and not common practice in local food. If you are visiting posher type of places then it may be used although always better to ask either way!
There are an insane amount of different types of rice in the Northeast and as you travel through the region, you'll get to experience a few varieties in the form of normal rice, rice beer, rice wine, beaten rice and all their other wonderful concoctions!
When most people think of visiting India, your mind jumps to veggie heaven but in this region, you have to watch out for FERMENTED FISH! (Ew, I know!!) It's in almost everything that's preprepared as a local dish so be sure to check before a nasty surprise!
TOP TIP: Get pickled! There are so many incredible and homemade pickles available that add so much flavour to your food…the perfect accompaniment for boiled vegetables eh?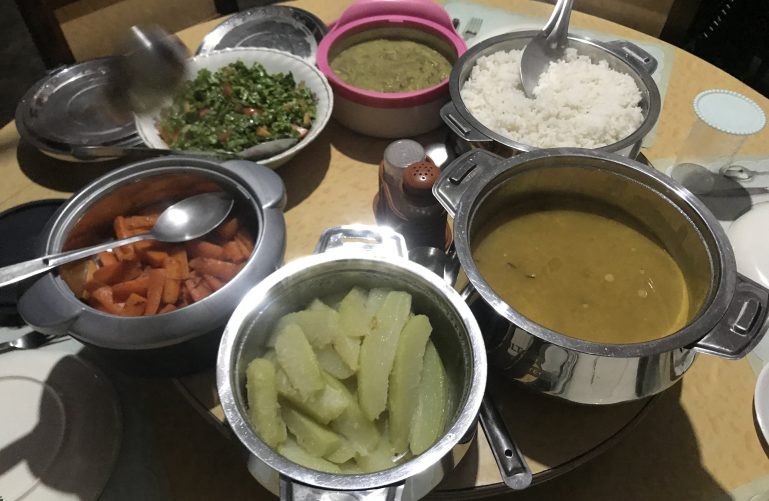 Snacking Tips!
BEATEN RICE
You can just add water, wait for 5 minutes, drain it then add fruit and sugar or salt and nuts for quick energy. This is readily available at markets and can be bought without plastic. Especially good for breakfast or to take with you on a hike like I did when visiting the spectacular Dzukou Valley. (Here you can read about my incredible trip to Dzukou Valley and my blog on how to travel zero waste.)
TOASTED CHANA (CHICKPEAS), MUTTAR (PEAS) AND NUTS
Such an amazing, healthy and nutritious street food with many versions available all over the northeast. Even better, they used recycled newspaper to serve them to you so you don't even need to have a container handy!
AMAZING FRUIT AND VEG!
If you're a bicycle traveller that likes to camp and cook then I have good news for you! The fruit and vegetable selection is vast and super tasty (especially the pineapples!).
AVOCADOS
What vegan doesn't love avocados?! Despite the meat takeover in the Northeast, in Manipur and Mizoram avocados are super cheap and much more sustainable because they grow locally. I know, you're welcome – ENJOY!
Special mentions
Orange Roots
If you're travelling from Shillong to Cherrapunjee then you have to pass the spectacular Orange Roots! An amazing all vegetarian restaurant that serves a wide variety of options and can tailor a lot of their menu to being vegan. The thali plate was exceptional and the best news is that it's eat as much as you like! Not the cheapest, but up there with the best! 180 rupees for a standard thali (can be vegan) and 220 for the special thali. Divine!
Shree Monami Marwari Bhojnalaya
We found a gem of a restaurant in Shillong with super cheap and tasty food! Thalis, parathas, curries, all the usual favourites and for a fabulous price! 7 rupees per roti, 40 or so for a curry, 90 for a thali. Excellent!