Dzukou Valley: A Nagaland Must See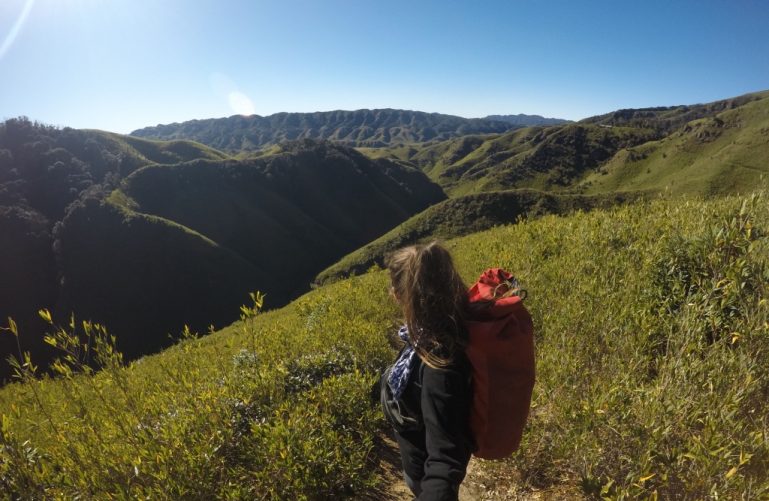 Nagaland as a whole was a place that charmed me beyond words, but Dzukou Valley is a place that is extra special and a must visit if you're in the region!
When I was bumping up the horrific, rocky roads into Kohima, I met Akung, a sweet 20 year old Naga guy who was holding a large newspaper package. I asked him to take my photo and we got chatting. I told him about my plan to visit Dzukou Valley in the morning and even though he was meant to be catching the bus to return to his village for college the next day, he said he'd love to come with me and him and his friend could be my guide. In the next breath he told me that the package was full of weed and then I was down – you can always trust you'll laugh with a stoner eh?!
Which Route?
You have two options, Jakhama (Zakhama on Google Maps) and Viswema. Jakhama is the more challenging approach being a steep climb up natural steps through overgrown, organic jungle and Viswema is 12kms longer but far easier with a 1 hour steepish uphill then a very gradual incline through grass and flowers. Most people approach from Viswema and descend out of Jakhama. My journey details the other way around.
If you are fit and used to hiking, I would recommend my route – the beautiful overgrown jungle is worth it and it makes for a nice, easy walk out of the valley when you leave. I also have problems with my knees (especially on steep declines) so descending Viswema was much more comfortable. Ascending Viswema is manageable even for a novice or untrained hiker.
How long it takes to reach the valley
I'd heard that Jakhama could take between 5-7 hours but it took us 4 and we were not rushing at all with many breaks. It is worth noting that I was trekking during winter which is very dry, the same route during high season would definitely take longer.
There is a long road to the entrance of the Viswema route which takes around 2 hours to walk or 40 minutes to drive. from there, the walk takes around 3-4 hours.
How to get there
Most people start their trip in Kohima although some stay in the homestays in the villages. Either way, you can jump in a Sumo (local shared jeep taxi) for a cheap price (around 50 rupees I heard) although I prefer hitchhiking and Naga culture is amongst the friendliest on the planet so it's extremely easy to find a ride.
If you are climbing from Jakhama, the path starts at the big sign just off the road – any taxi or local will know where to drop you. If you are starting at Viswema, you will need a lift or a taxi to take you up to the start of the path. This can be arranged from the starting point in Viswema town where most people pick up their guide.
Kohima to Jakhama starting point is about 20kms. Kohima to Viswema starting point is about 27kms.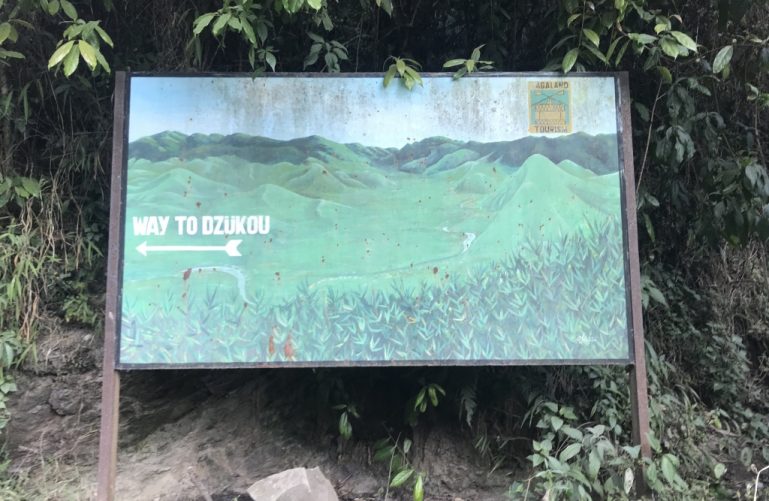 Do you need a guide?
In my opinion, not really, despite the locals telling you otherwise. The route is clear and well signposted, especially from Viswema side, although I was trekking during winter season where there is far less rain to confuse the path. If you are a nervous person when alone in nature but would like to ascend from Jakhama side, maybe I would recommend a guide. I was told that they charge around 1500 rupees per day which would have been way beyond my budget. During high season there will also be others walking the path so I don't think it's necessary – your call!
When to visit
High season to visit Dzukou Valley is May to September when the valley is in full bloom because of the monsoon rain. Expect hot, wet weather and take clothes accordingly.
Winter season, November to March, is dry and very cold but still beautiful. The valley gets busy at the end of Novermber/start of December because of the infamous Hornbill Festival that takes place from 1st to 10th December in Kisama Heritage Village falling between Jakhama and Kohima. If you are trekking at this time make sure you take a lot of good, warm clothing and a sleeping bag for comfort. The winds are blisteringly cold and sometimes the guesthouse can fall short of blankets depending on how many people there are.
The guesthouse
If you can get a local to contact the guesthouse in advance, especially in winter, to check there are people there. I was rushing and didn't do this, but it was around the Hornbill period, so I wasn't too concerned.
You can camp with your own equipment (although you are still charged a fee – I believe 800 rupees) or rent camping gear there (I think for around 2000).
You can also stay inside the 'dorm rooms' (large empty rooms, one with a concrete floor, the other with a wooden floor) which cost 50 rupees per person. Then you pay extra for each blanket (small 50 rupees, large 100 rupees) and 50 for a mat. There are two dorm rooms which can sleep up to 40 people. I recommend at least two blankets during winter – it is COLD!
There are also private rooms which cost 1200 rupees per night and have a bed inside. These are apparently booked out in high season. In my opinion, not worth the money.
Food
Food at the guesthouse is 200 rupees per (very large and tasty) plate of rice, dal and fried potatoes for dinner. Seconds are usually available. I think this is a very fair price especially considering they have to carry everything up there to provide this service for you.
Some snacks, like Maggie, are available at a slightly inflated price but as a vegan, zero waste traveller, there was nothing available for me.
I would recommend packing your own snacks/meal for your journey up and down anyway. There is nothing available to buy en route.
It is possible to hire cooking equipment at the guesthouse but you also have to pay for firewood and I don't think it's worth it because it works out expensive and you have to carry your own raw materials.
Can you tackle it in a day?
Yes. Either route, yes, if you leave early enough but I wouldn't recommend it. The place is so beautiful, I felt deprived with just one night there. I'd recommend staying at least one night but two or three would be much better.
Mobile signal
For the majority of the time you will be entirely disconnected until you reach the peak of Jakhama trail or the point where you emerge into the valley near the guesthouse from Viswema side. Even then the signal is weak but can be strong enough to send a message to your taxi driver (if you have one) or homestay if you decide to change your plans and stay for longer.
Our experience
After chatting with Akung, we'd planned to meet early, to take our time and get the most out of the day so I met them at their place at 7am. We'd opted to ascend the Jakhama route and took a taxi to the starting point.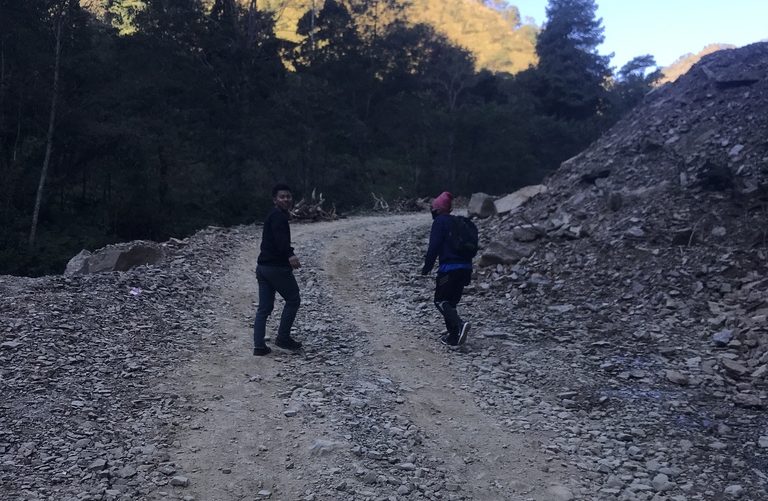 The start of the walk was up a rocky trail until we reached the start of the jungle – all very straight forward and not challenging to find the route. Then we entered into the beautiful rainforest path up steep natural rock steps across river beds, over boulders and through breathtaking filigree.
Walking with the boys, who had visited before, I didn't have to think about the route but the path did seem very clear and obvious. Saying that, we were trekking during dry season (end of November) so the paths were not muddy.
Despite the incline being steep and challenging, it wasn't as tough as I had anticipated and if you are an avid hiker, I would definitely recommend the Jakhama route; the jungle landscape is breathtaking and I can only imagine its beauty during full bloom in rainy season.
About to reach Dzukou Valley from the steep Jakhama ascent
The journey was consistently up steps the whole way until we reached the peak when we had this spectacular moment of breaking through the dense jungle and emerging into the most beautiful panoramic view of the rolling green valley hills and bold, picturesque mountains. Just as we were about to reach the top, we bumped into a western traveller, Sebastian. He told us we were about 10 minutes away and we convinced him to turn round and chill for another night with us.
From the epic viewpoint, it was another 20 minutes or so to walk to the guesthouse down a leisurely path cut into the bamboo grassland that covered all the valley walls – just incredible. Our total journey took around 4 hours and that was with a lot of chill and food stops along the way.
Once we'd arrived, we met some of the other travellers there and got acquainted then walked up to another viewpoint (which is better for sunrise) that overlooks the valley and the surrounding mountains. It's quite steep to get up there so take care especially when coming back down.
As we returned a lot more travellers had arrived and Der, the main guy running the place, came over to talk to me about blankets because they were running out. Luckily, he pulled some together for us but they were limited and it would have been more ideal to have extra.
As it was winter time sunset was early but wow, seriously amazing as the perfectly clear blue sky became filled with the brightest and boldest pinks, purples, yellows and oranges. I wished in that moment, wrapped up from the chilling winds that I'd brought my fire toys with me but I gave a short LED poi performance for everyone there as we eagerly waited for dinner.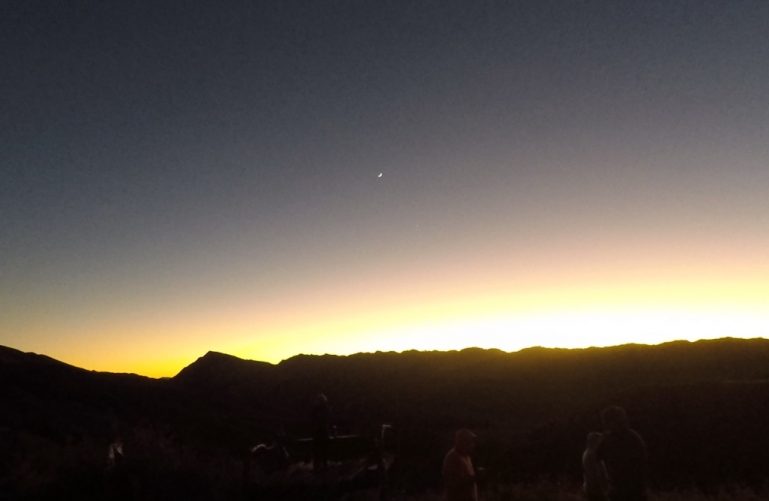 The temperature dropped rapidly and firewood heaters were available to rent to keep warm. We huddled close as we filled our hungry bellies with hearty portions of rice, dal and fried potatoes. The buzzy atmosphere died down early as everyone was tired and because of the cold weather, everyone retreated into hiding before 9:30pm.
I woke up in the middle of the night and took a brave walk outside to admire the stars. Honestly, it was the most mindblowingly beautiful display I have ever seen. The rich, deep navy quite literally sparkled from what looked like thousands of diamonds scattered in every direction. I took some time to feel the silence and soak in the pure bliss and peace that I felt in that moment, enjoying the natural glow that illuminated the stunning nature that surrounded me.
Waking up at sunrise was too chilling for me. Absolutely freezing I did not want to go back up to the viewpoint I'd already visited the day before as I was freezing then, so I decided to stay in the warm and have a chilled morning. Some people went down to the valley to experience the frost, but being from England, this was nothing new and didn't entice me into unwrapping from my swaddles of blankets. Instead, I spent my morning drawing and painting, meditating, enjoying and just existing – appreciating the magnificence of our Mother Nature and wholeheartedly channelling my gratitude for such a beautiful experience.
Friends from the valley

Sunrise at Dzukou Valley
After lunch, we said our goodbyes to our new friends and started our descent down the Viswema route knowing that we didn't have a lift to the town at the other end. Unconcerned, we took our day slowly and wanted to enjoy the valley for as long as possible. The viewpoint on the way down was also incredible although missed the wow factor like what we'd felt when we emerged from the jungle on the way up – still phenomenal.
Off route exploring in Dzukou Valley

Dzukou Valley viewpoint (Viswema route)
It made me really sad to see so much rubbish on the way up and down the trek so we decided to rescue some plastic bottles and stuff them full of unrecyclable plastic in an attempt to remove as much from nature as possible. If you're walking this way, it's a super easy method for making a small difference – take up the #BottleIt challenge too!
For more tips on how to adopt more eco friendly travel habits, check out my blog on how to embrace zero waste living whilst travelling.
When we arrived at the bottom, there were some drivers waiting for other trekkers but we decided to get moving in case we had to walk the whole way back to town. After a short time we easily hitchhiked a lift to the starting point and I hitched another ride back to Kohima within 1 minute of being on the road. A smooth ending to the most wonderful trip.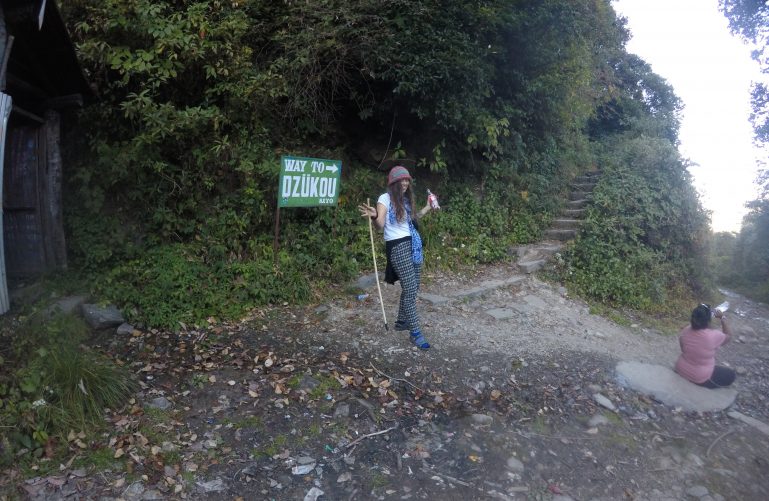 Nagaland is the 6th most ecologically diverse region in the world and Dzukou Valley blew my mind. I'd love to return again during rainy season when the flowers are in full bloom.
If you're still trying to decide on whether or not you'd like to visit Dzukou Valley, make sure you check out my video for a little bit of extra inspo!
Happy trekking everyone! 🙂