How to embrace zero waste living whilst travelling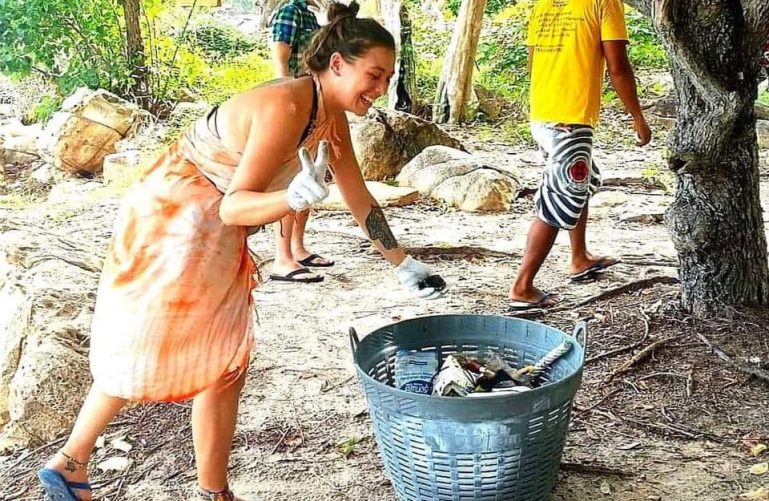 Below I've detailed everything from my kit to all my eco-aware travel tips outlining how I've managed to incorporate zero waste living into my everyday even whilst cycling from Vietnam to England as a solo vegan female.
I hope the below advice helps you to make some better environmental choices and I would be happy to answer any questions if you'd like some extra help!
MY KIT
SHOPPING AND FOOD AND DRINK ON THE GO:
♻️ Friends of the Earth stainless steel water bottle
♻️ Lifestraw Go2 Stage water filtration bottle (allowing you to drink from ANY water source and with every purchase, a child in need receives safe water for an entire school year! If you are based in Europe, you can purchase yours here.)
♻️ Collapsible coffee cup (from It's Going Green, Bangkok)
♻️ Collapsible food container (microwaveable and freezable with a detachable spork from It's Going Green, Bangkok)
♻️ ReReef Silicone food pouch (ideal for sliced fresh fruit sold on the streets in Asia. I purchased mine from The Yard Hostel, Bangkok.)
♻️ Cutlery (including knives, a fork, a tablespoon, a teaspoon, a pair of chopsticks, a straw and straw cleaner)
♻️ Two cotton mesh vegetable/fruit bags (one ReReef cotton mesh tote and one large mesh grocery bag from It's Going Green, Bangkok)
♻️ Friends of the Earth cotton tote shopping bag
TOILETRIES:
💚 Bar of shampoo (eco friendly, vegan shampoos are widely available online or via retailers such as Lush Cosmetics. My latest one was purchased from It's Going Green, Bangkok)
💚 Bar of conditioner (eco friendly, vegan conditioners are widely available online or via retailers such as Lush Cosmetics. My latest one was purchased from It's Going Green, Bangkok)
💚 Bar of body soap (eco friendly, vegan soaps are widely available online or via retailers such as Lush Cosmetics. My latest one was purchased from It's Going Green, Bangkok)
💚 Bar of face soap (Himalayan Charcoal Facial Purifying Soap – The Body Shop)
💚 Up-cycled tin container (for the bars)
💚 Bamboo cotton buds (widely available online, my latest box were purchased from It's Going Green, Bangkok)
💚 Klein Bamboo toothbrush (widely available, my latest one was purchased from It's Going Green, Bangkok)
💚 Toothpaste tabs (Cheww.co product purchased from It's Going Green, Bangkok. However these are quite expensive, please let me know if you know of a cheaper alternative!)
💚 Menstrual cup (Athena Cup on Amazon)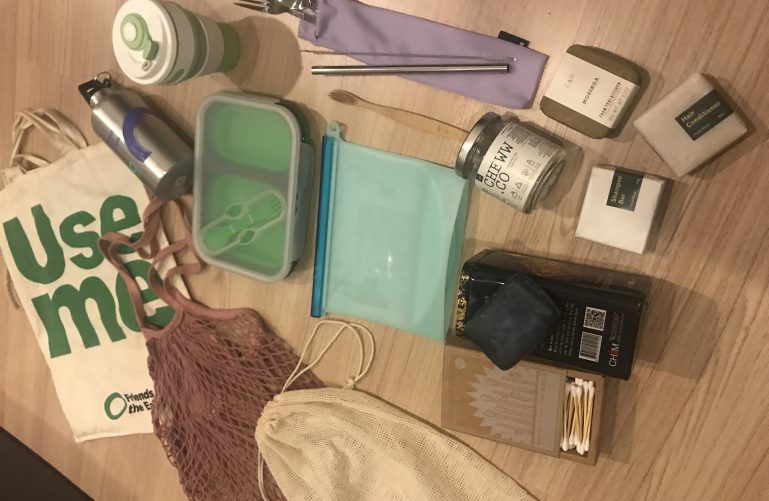 OTHER ENVIRONMENTAL TRAVEL TIPS
FOOD/DRINK
🍴 Eat local produce where you can. Importing goods is carbon costly and uses additional packaging which can be avoided when you purchase from local market sellers.
🍴 Cut/reduce your consumption of meat and dairy. Animal agriculture is the biggest contributor to global warming – a whopping 18% of all greenhouse gas emissions, more than the combined exhaust from all transportation.
🍴 Buy cans instead of bottles. I understand what it's like to 'need' a cold drink! Plus, in a growing number of regions, you have amazing companies like CanO Water that can provide you with on-the-go water in fully recyclable and resealable cans for when you're caught without your reusable bottle!
ANIMALS/MARINE LIFE
🐢 DO NOT PAY INTO ANIMAL EXPLOITATION. This is not natural or ethical. Wild animals are meant to be wild and introducing them to humans is not only damaging for the animal(s) in question, but also to the ecosystem. By visiting or paying into animal tourism, you condone that behaviour which keeps the trade going. When no one will ride these people's elephants or watch a show featuring orcas, the businesses will fail.
🐢 When snorkelling or scuba diving, be aware of the corals and reef. Not only is it seriously damaging but it can actually harm you too.
ZERO WASTE
♻️ When caught without your zero waste kit, discipline yourself between WANT and NEED. For example, when I didn't have a cup with me and I'd want a smoothie, I'd just go without instead of using plastic – simply, my value for the environment is more of a priority than my desire for a smoothie. Another tip would be to insist about not using plastic and the vendor (if they can) will do everything to find you an alternative solution so that they can still sell you their product.
♻️ If you don't have a water filter, take a bottle into local shops and ask if you can refill your water. Pretty much every place in Asia will have a giant filtered water refill tank in their house/shop for the family to use. Most will oblige for free (water is very cheap) but if they sell water and point to the plastic option, explain that you are happy to pay the same as what you would for a plastic bottle, you just don't want plastic. This also helps to educate which is great!
♻️ Pick up rubbish where you can, every little helps.
♻️ Politely point out to others things they might be able to do. Sometimes this can feel a bit uncomfortable but people often just don't think about what's wrong with using plastic until it's mentioned. By asking someone sitting one table over from you if they wouldn't mind reusing their straw for their next drink instead of getting a new one, you plant a seed in a nice way for them to think about their plastic usage.
♻️ UPCYCLE! We live in a time where we are so used to just throwing things away and getting a newer 'better' version. Upcycling is not only great for the environment but also incredibly rewarding. You can get creative with it too! A simple upcycled product I have in my plastic free kit is the use of an old tea tin I got from a coffee shop in Bangkok. It holds all my soap bars, I made the workers at the shop smile and I didn't have to spend a penny! 🙂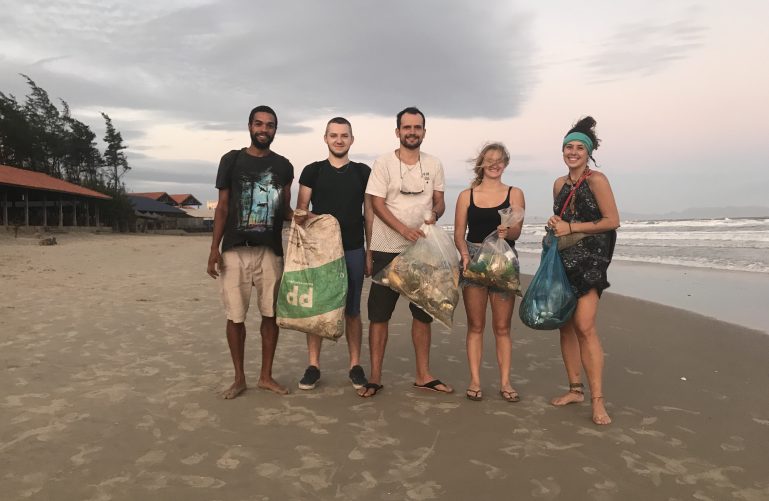 WATER AND ELECTRICITY
💧Turn off the lights and unplug your appliances when you don't need them. You may be in a hotel and don't have to pay extra for the electricity, but our Earth does! (This also applies to being at home and there it saves you money!)
💧SAVE WATER! Have showers, not baths, and be speedy! If you are budget travelling you probably won't have access to a bath anyway, but baths use a lot more water which our planet needs more than you do! Remembering to turn the tap off whilst brushing your teeth or washing your hair are also small positive changes.
💧Hand wash your clothes when you can. This saves money, water and electricity. Most hotels wash only your clothes in a machine at one time which is extremely wasteful. The washing tends to be a bit rubbish anyway so you may as well do it yourself!
TRAVEL/HOLIDAYS
🚲 Take flights as little as possible and use land travel alternatives. Many countries have very simple borders to cross and in places like South East Asia, border crossings are relatively pain free. Always look out for (and stand up to!) corruption as this is commonplace amongst developing communities. Politely refusing and standing your ground (without making a scene) will usually allow you to surpass this issue. If you do need to fly, try to book a direct flight because taking off and landing is the most environmentally damaging part of the process.
🚲 Use local transport, walk or ride a bicycle more. Walking and riding a bicycle is especially great because it's not just great for the planet but also your own health. I know cars can feel convenient but look at travelling this way as your journey, your meditation and your exercise.
🚲 Don't abandon your toiletries. It's a waste of money, plastic and product. If you are fortunate enough to have to think about this 'problem' of taking your products home, donate them to someone local who would appreciate them.
🚲 When booking excursions, invest your money into eco-tourism. Ask where your money goes…do they employ local guides? Do they preserve the environment? How do they source and cater food for those on the tour (i.e. using disposable plastic to serve)? Does their business model support the local community in a sustainable way?
SHOPPING
🛍 Purchase clothes or items from local markets or second hand shops. This helps to stop fast fashion, puts money into the hands of the local community and helps to recycle useful materials.
🛍 Avoid environmentally damaging products. The two biggies that spring to mind are sanitary waste and wet/baby wipes. There are great alternatives that do not get flushed into our oceans such as a menstrual cup, reusable sanitary towels and facial cleansers.
MAKE A DIFFERENCE
✅ When you see something damaging, sharing that with others to raise awareness of these issues is extremely important. Use your social platforms and help to promote positive social trends such as #saynotoplastic #drasticonplastic #savetheplanet #climatecrisis
✅ If you have time, enquire as to whether you can help a local cleanup organisation. Sharing this on your social media inspires others too.
Here are some snaps from the recent cleanup I got to take part in thanks to Trash Hero in Koh Samet, Thailand. In just a few hours six of us managed to collect 90kg of recycling and 40kg of rubbish. They operate throughout South East Asia so check out their website to see where you could help if you're passing through!
90kg of recycling and 40kg of rubbish collected

BEACH CLEANUP WITH TRASH HERO, KOH SAMET
HOW TO COMMUNICATE YOU DON'T WANT PLASTIC
It's all about patience and perseverance…
STEP ONE
Learn how to say 'I don't want plastic' in the language of the country you're visiting. (If you want to be thorough, learn how to say 'plastic is bad for the environment' too.)
STEP TWO
Gesture like crazy – repeat the words and point at the plastic you're referring to signalling some kind of 'no' sign.
STEP THREE
Show your zero waste alternative and act out that you would like the product/food/drink in your own container rather than their plastic option.
STEP FOUR
Repeat and keep an eye out for any additional plastic they might serve (i.e. when ordering a smoothie in your own cup, they might give you a straw once they've poured the smoothie). Be ready to interrupt and prevent this.
STEP FIVE
Explain why you didn't want plastic to the best of your ability. Use Google Translate as necessary.
EXTRA NOTE: if someone serves you plastic by mistake, take the time to explain why that was wrong calmly and clearly. The issue is in a lack of education and understanding so following up with this is probably more valuable and impactful than not using one piece of plastic.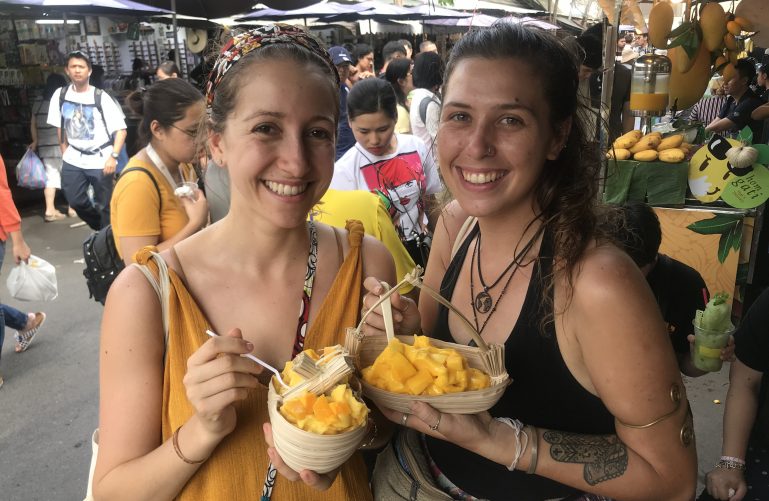 Please check out Friends of the Earth, one of the wonderful charities I am fundraising for. They have details of other ways you can help to protect our environment including supporting a new plastic law and you can learn more about the incredible work they are doing to help fight climate change.
I really hope this post has helped you with some useful tips on how to introduce some positive environmental changes into your lifestyle. If you've enjoyed reading and learned something new, please share this to help others benefit from it too 🙂
Thanks for reading and good luck!
Love Han x