What a welcome! Riding from Kawkareik to Hpa-An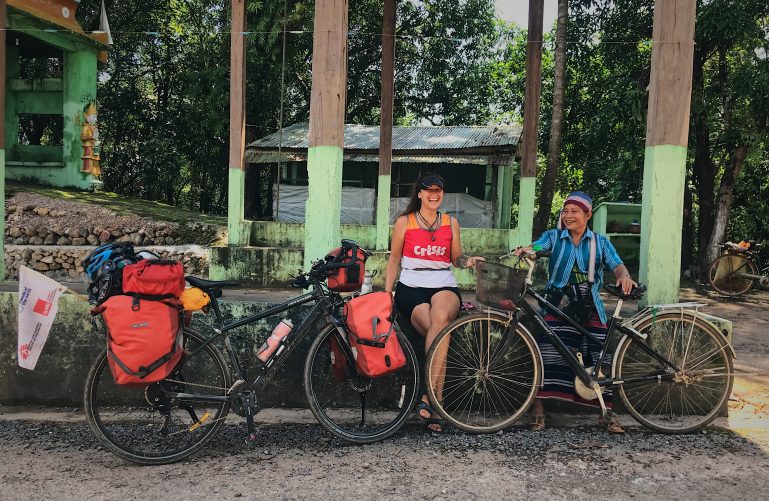 My first full day in Myanmar was certainly that – FULL. 104kms of an emotional, beautiful and bumpy-as-hell journey. I finally got my early start in with a 4:45am alarm that I snoozed until 5:30. Up, ready and out to the morning market for fruit stocking and breakfast before my (expected to be) 90km day. Had a spectacular breakfast of a handful of everything a lady had in front of her, mushed and mixed together with an onion bhaji type of thing and a miniature orange sweet curry bowl. My vegan note from Su Su had worked a charm and everyone around me was fascinated and amused with my food ordering encounter. This got me even more excited for all the food I'd be continuing to eat!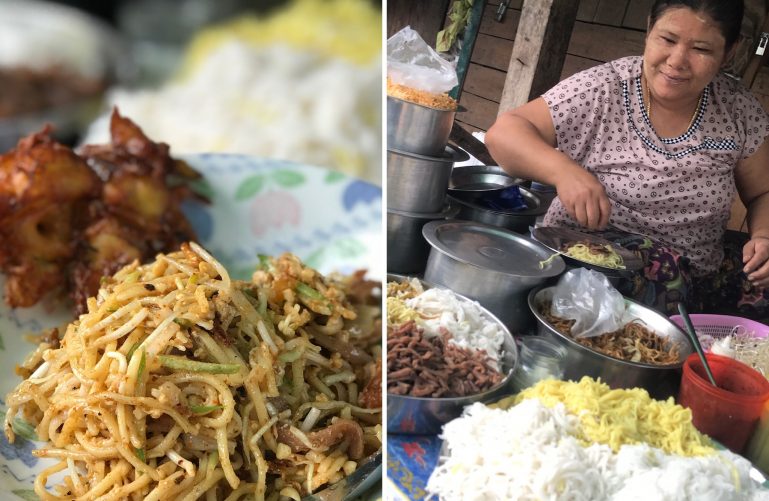 Stopped less than a kilometre out of the town, an immigration officer took down my details. He said he liked the premier league and laughed at my reaction when I told him that Arsenal were 'no good'! The road was horrendous. Like giant moon craters covered in jagged rocks and the occasional bit of mud. This lasted for the first 50kms of the journey. Luckily, I was still experiencing a sensory overload of Burmese magic and digesting the dramatic changes from what seemed to be futuristic Thailand in comparison.
People here are so friendly and everything is beautiful. Overgrown and raw. Even the trees have untamed life growing all over their roots and bark – it's amazing.
The hills together with the road conditions made the journey tough but my excitement for being here and because I actually managed to leave early this morning meant that I didn't feel pressured or rushed to move at super-speed! I took a rest and ate my pomelo in the shade followed by a brief friendly encounter with a local I couldn't communicate with. Burmese is HARD. People told me they speak English – they don't!
I passed a man leading up to a tough hill…he was on a bike too. He overtook me then walked his bike when he couldn't pedal anymore. When I reached the top we smiled a celebrated together. I shared a spare dragonfruit with him and we took a moment to rest whilst appreciating each other. He let me take a photo of us and our bikes. He was a cool guy – grey and black hair, longer than mine, and fabulous multicoloured clothes. I really enjoyed that moment.
After that I went up to the monastery that Su Su had recommended for lunch. The hill was crazily steep and I cycled half then walked up the stairs for the rest. Cycling would have probably been easier! A monk showed me around up to the pagoda where the view was incredible. Green land for miles. He seemed so proud which was also really humbling to see. I felt overwhelmed with love and joy.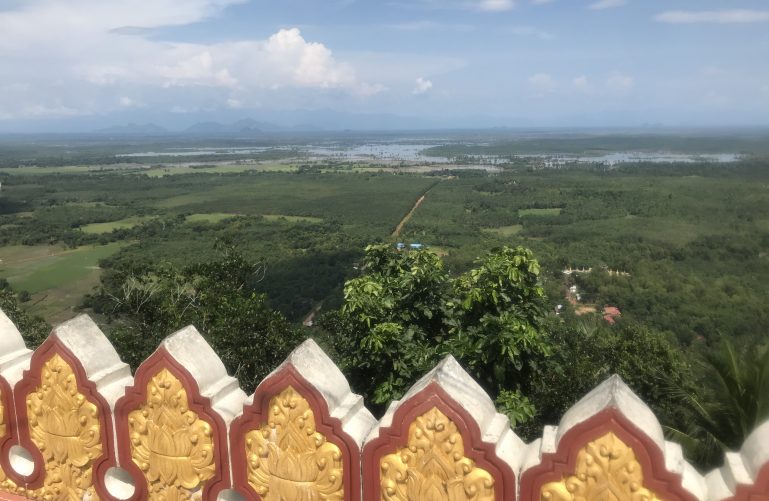 Back to the bike to pedal the other 50kms to Hpa-An and I hoped the road improved which thank God, it did. And so did the scenery. Wow, the afternoon was to die for! Passing by giant limestone cliffs lined with countless plants all beautifully overgrown…even the tree trunks were bursting with life from every angle! Stunning.
I made it just in time to my last recommended stop, the pagoda on a lake, for sunset, which was beautiful. Enjoying the sunset there meant I cycled the last 12kms in the dark to the town but it was worth it and I arrived proud, exhausted and delighted with my crazy and fun-filled day getting just one tiny insight into what the next weeks had in store for me.