Challenging sexism: Holi Festival as a solo female traveller in Varanasi, India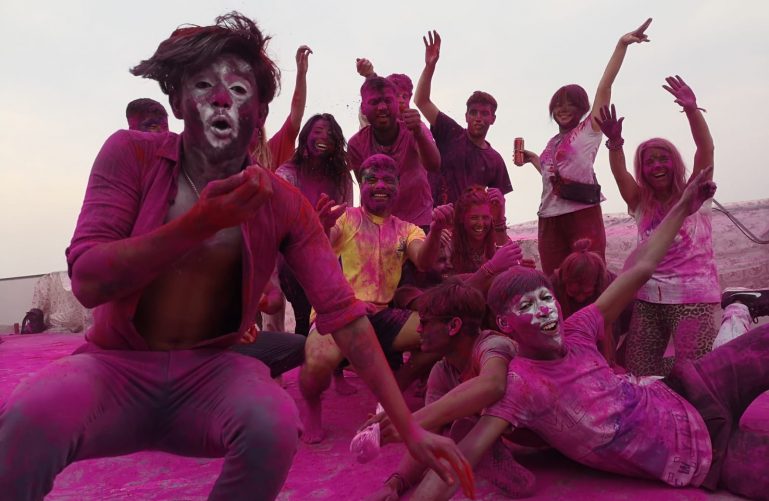 Travelling as a woman alone in India can be challenging enough and I'd heard of the issues women had faced particularly when celebrating Holi Festival of Colours in popular towns like Pushkar and Varanasi which made me want to see and document the experience for myself.
The festival falls in March of each year and although it's renowned for being a happy and vibrant experience, groaping, verbal abuse, objectification and even rapes are routinely reported. As a devout feminist, I wanted to see and share a personal experience that a solo white woman travelling in India would have at Holi whilst actively challenging any sexist, negative and unacceptable behaviour.
---
Holi Festival of Colours marks the celebration of the ending of Winter and coming of Spring. The Indian festival is notorious around the world for drawing huge crowds out of their homes to celebrate, eat, drink and dance happily in the streets amongst giant puffs of vibrant and colourful clouds.
I went into it anticipating an abundance of music, food, alcohol and happy people whilst being realistic about the men who actively seek out crowded opportunities such as this (with their inhibitions lowered due to intoxification), to touch or engage with women without their consent. The experience was interesting and well, you can read about in below…
---
Firstly, a huge shoutout to Moustache Hostel Varanasi who sponsored my stay throughout my time in the holy city. There's honestly nowhere else I'd stay if I was returning! They also sent me on their Sunrise Boat Tour on the River Ganges which was a great experience – thanks for that!
Holi at Moustache Hostel
The celebrations started at the hostel the night before when they had organised for some authentic Indian musicians and dancers to perform on the rooftop. I then did a short fire show which was great fun as always. The whole evening was exceptional – again, kudos to the team for organising!
There were also some religious ceremonies down at the ghats in front of giant bonfires making puja (prayer) in order to banish their internal evil with the burning of a symbolic Holika, who was the sister of the demon king, Hiranyakashipu. This was cool to see and everyone got excited for the big celebrations the next day. People were playing loud music and all dancing together in the street into the late evening. There was an abundance of smiles, friendliness and a good and happy vibe all around.
The Moustache team had bonded us all together, getting us pumped up for the upcoming festivities and also informed us clearly about the procedure for the next morning – we were instructed to gather things we needed for the day and we could return inside our rooms once we came back to shower later on as they would be locked from 10am to protect them from being damaged from the colour fights. Seemed inconvenient – became very obviously practical and evidently necessary!
After breakfast, the party started on the roof – colours provided, loud Hindi tunes playing at great volumes, giant colourful smiles and free snacks for lunch (fried noodles and french fries were available for vegans)! The hostel had done so well bringing everyone together and creating a safe environment for us all to have fun.
But I, and so many others, wanted to get the street experience of Holi too and ventured out down towards Assi Ghat, the main touristy spot down by the Ganges located a 5 minute walk from the Hostel. We left as a group of about 25 people of all nationalities and both sexes. By the time we made it to Assi Ghat there were only four of us left and I was the only woman.
Holi at the Ghats
The atmosphere was only what I can describe as thousands of extremely drunk men, behaving mindlessly. There were no local women seen out of their houses – it was not considered safe. Women literally have to hide inside because so many men can not control themselves to not sexually abuse them (and many people say they think women now have equal rights!).
The essence of the festival felt lost to me as it was clear that it was more of an excuse to get disgustingly intoxicated on whatever they could find and touch any foreigner wiping dye and powder on their face, not the fun, colourful powder showers and cultural dancing I was hoping for.
Music played from boomboxes and people sat on the steps of the ghats watching some others dance (although the music was predominantly in the morning and didn't last into the afternoon like we initially thought it would).
When the four of us had decided to continue on, a man grabbed my boob aggressively as he walked past so I chased him and held him down over a motorbike as he apologised when I shouted at him telling him he had no right to touch me.
There was a scene and people were staring but no one said anything to me or the man. I wanted to stand up to people that were taking advantage of women in order to set the precedent that the behaviour was not okay. As I was shouting at him another man grabbed my boob and so the day continued…
We walked about 2kms down the ghats and met a group of inspiring women (armed with a bamboo post for self defence – excellent and genius!) who we joined forces with. Everyone wanted to touch us – not just to spread colour, but because we were foreign. Some people you would get a better feeling for than others and as people would approach you, you'd have to make your split second decision of whether you would allow them to shake your hand or put colour on your face knowing that many of them try their luck to brush past you in a sexual nature or just outright grab you because they desire it. Sometimes you'd guess right, other times not.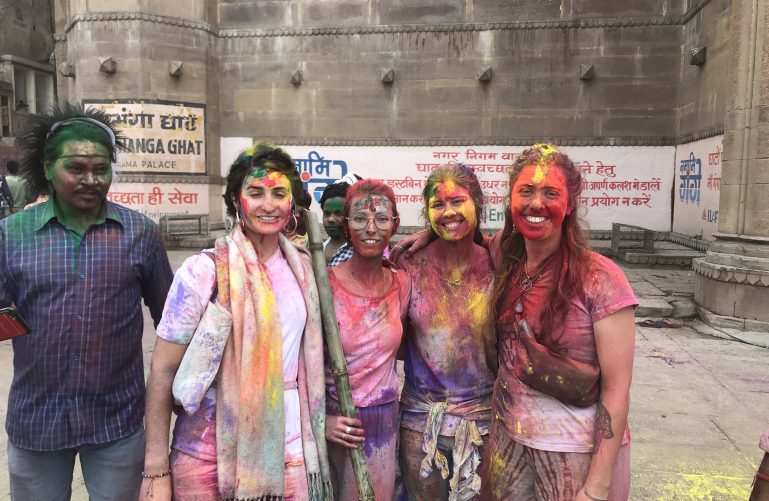 When you've been travelling around India for a while as a solo woman, you will have already learnt that you must be direct in order to effectively communicate, especially as there is such a differing cultural understanding, but for Holi, you have to take directness to a new level otherwise you will feel violated and vulnerable. We had to continuously refuse physical contact and many went against this anyway.
At one point, this resulted in me having a whole 2l bottle of blue dye poured over my head and down my top. I was drenched head to toe – it literally seemed like he had purely done that so that my clothes would stick to me because it was not fun or in keeping with the arty-free-spirit-vibe of the colourful powders.
It became evident that we had to keep moving to avoid excessive harassment; if we stopped for more than 2-3 seconds, we would be swarmed by men, even in less packed places, for them to come and have their drunken interaction.
Overall, I was very disappointed with the my experience at Holi Festival in Varanasi. I had a good time, with some lovely people but the reality was that the essence of why the festival is celebrated in Varanasi was lost as it had clearly evolved as an opportunity to get drunk, act like total fools and take advantage of foreigners (both male and female).
I never encourage women to hide because I think it's so important to stand up to oppression but honestly, going out in Varanasi on Holi as a woman is not an experience I would encourage or personally repeat. If you'd like to visit the festival, I would encourage you visiting either Mathura, where Holi Festival originated, or a place like Goa or Rishikesh, where you know the attitude towards foreigners is much more accepting, westernised and liberal.
Overall, I'm pleased I experienced Holi in Varanasi so that I've been able to share my own experience there, to raise awareness and keep fighting the oppression to get women the equal rights we deserve.
The Next Day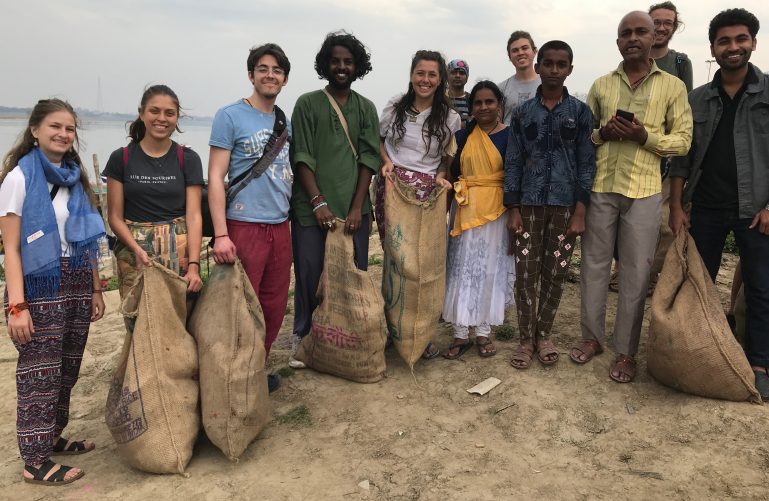 Holi Festival also causes a lot of waste and pollution to an already filthy city and I always try to look out for any opportunity, small or large, to contribute positively to the community so I teamed up with Moustache Hostel to organise a rubbish cleanup the morning after Holi. Thanks to all those who helped, it set a great example to locals and tourists alike!