Sunflower Mince Vegan Bolognese Recipe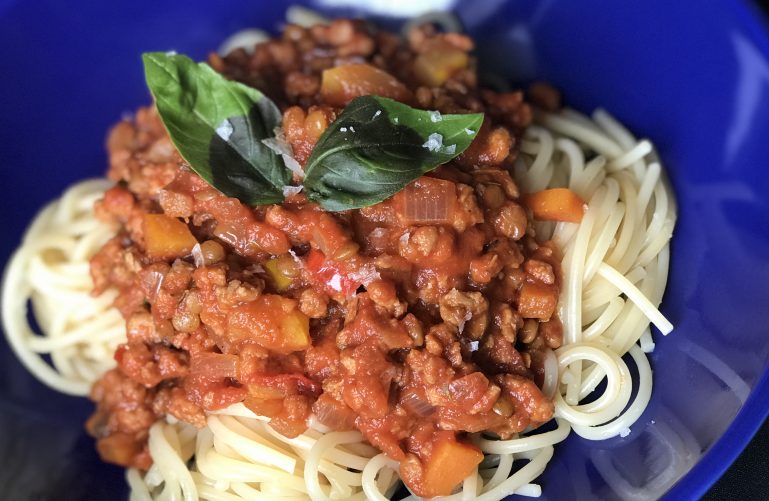 Oh my, oh my…SUNFLOWER MINCE BOLOGNESE!!! What an absolute dream!
As such an old time favourite and widely adored Italian classic, traditional bolognese is one most people hate to think of giving up when they first go vegan. But fear no more! Sunflower mince to the rescue!
When I went down for one of my regular visits to my local zero waste shop Greener Habits in Walthamstow (check them out, they're just the best!), Hannah, the owner, mentioned this newly stocked protein and fibre packed, low fat mince alternative and I am absolutely in love! And the best thing is that you treat it just like your old meat/Quorn counterpart when you cook making this dish super easy, even for novice chefs!
Not only is it cruelty free but it's also soya and gluten free making it a great alternative for those that struggle with allergies. It's also got a low sodium content so it really does tick all the boxes as an all round favourite and healthy meat alternative (unlike most of the other meat replacements on the market!).
So you get it… I'm pretty excited about sunflower mince, especially when it tastes this good! Check out the recipe and remember to let me know how you get on when you try it out!
SERVES 4 – 5
PREP TIME 10 MINS (Allow 1 hour to pre-soak your lentils)
COOK TIME 35 – 40 MINS
TOTAL TIME 45 – 50 MINS
INGREDIENTS
115g sunflower mince
120g mushrooms (sliced)
100g flat bottomed squash (diced)
50g green lentils (soaked)
2 carrots (diced)
1 red onion (diced)
1 mild large red chilli pepper (optional)
2 cloves of garlic
700ml passata
250ml water (have a cup extra to hand)
2 tbsp rapeseed oil
2 tbsp nutritional yeast
2 1/2 tsp dried thyme
1 1/2 tsp salt
1 tsp smoked paprika
3/4 tsp white pepper
Handful of fresh basil
GARNISH
(If you don't have flat bottom squash, you can sub courgette / aubergine / whatever you like instead)
STEP 1
Boil water and add to lentils in a covered dish to soak for one hour.
STEP 2
Heat a pan and add your oil. When the oil is hot, sauté the diced carrots and onions over a medium heat for 3-4 minutes.
STEP 3
Reduce the heat, add the chilli and garlic and cook for another 1 minute.
STEP 4
Add the squash and mushrooms, cover and cook for a further 5 minutes.
STEP 5
Mix in the paprika, salt, white pepper and thyme stirring the herbs and spices through the veggies thoroughly.
STEP 6
Drain your lentils from the water they were soaking in and add the passata and water to the veggies. Cover and cook for 5-7 minutes.
STEP 7
Stir through the sunflower mince and add extra water if necessary. Bring to a boil then cover and simmer for 20 minutes.
STEP 8
Mix in the fresh basil and nutritional yeast then serve over your chosen pasta and garnish.