One Pot Vegan Coconut Dahl Recipe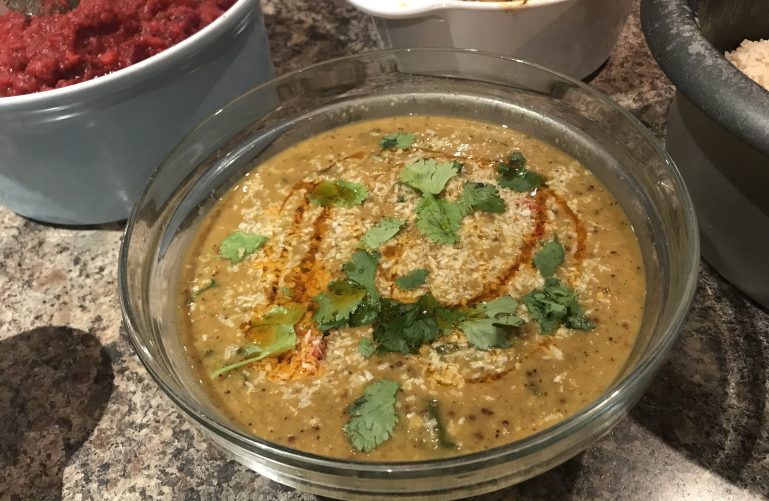 As you may already know, I've spent a lot of time in India and I've even got Indian heritage as my grandad was from Kolkata, West Bengal. And as a vegan foodie, it's simply impossible to not love everything about Indian cuisine because it's always bursting with the most exceptional spices! Every region is the home to different unique flavours and after having slept in so many different random family homes with different cultural practices and ancient family recipes, I've picked up a few tips and tricks along the way!
This southern Indian style coconut dahl recipe is hearty, full of flavour and packed with fiery spice! Omit the chillies if you can't handle the heat otherwise embrace the flames because this is a dish jammed with goodness, protein and an exotic taste which is delicious on its own or to pack a punch alongside other curries.
The term 'dal' / 'dahl' / 'dhal' means split lentils or pulses in the Indian sub-continent and is a staple dish served all over with many variations (most likely because India is the largest producer of pulses in the world!). The more southern states are known for their affinity to powerful and spicy flavours and the typically tropical coconut milk based dishes. The southern states usually use dahl as the base to the famous dish, Sambar, whereas in the north it is a staple dish in its own right.
It is commonly eaten with chapatis (also known as rotis) or rice and one variation or another is found on (almost) every thali plate in India. For those of you that have never heard of a 'thali', it's a 'little bit of everything' type of plate where you'll get a selection of batch cooked curries, dahl, rice and chapatis which are served at the local dhabas (restaurants). It's the best and cheapest way to try as much delicious food as possible when you're visiting India!
Dahl is a great source of protein and fibre and is also low in fat so it makes an excellent addition to your cooking repertoire! It's also rich in nutrients like vitamin B and iron which is always helpful too!
Anyway, on with the recipe…
SERVES 6 
PREP TIME 15 MINS
COOK TIME 30 MINS
TOTAL TIME: 45 MINS
INGREDIENTS
200g red lentils
400ml coconut milk 
300ml water (extra cup of water to hand)
2 tbsp coconut oil 
2 white onions (finely diced)
2 red pepper mild chillies (halved lengthways) (optional)
1 hot green chilli (halved lengthways) (optional)
1 lime (juiced)
2 tsp coriander seeds
2 tsp cumin seeds
1 1/2 tsp mustard seeds
1 tsp salt (adjust to taste, especially if you remove the chillies)
3/4 tsp turmeric 
1/2 sq inch ginger (minced)
2 cloves garlic (minced)
Handful of fresh coriander
GARNISH
Drizzle of chilli oil 
Desiccated coconut 
Fresh coriander 
STEP 1
Soak the lentils in hot water for 10-15 minutes (as you prepare your veg and complete step 2).
STEP 2
Toast the coriander and cumin seeds in a pan over a low heat. Once you can smell the fragrant aroma, remove the seeds before they burn and transfer them to a spice blender or pestle and mortar. Grind the seeds into a dust-like powder and set aside.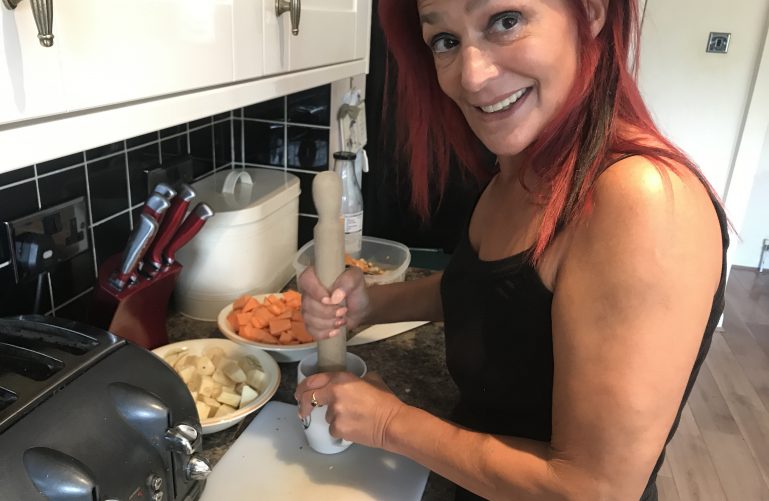 STEP 3
Add coconut oil to a large pot on a low heat and slowly cook the onions for 8-10 minutes.
STEP 4
Add mustard seeds, garlic, chillies, ginger, turmeric and salt . Cook until the mustard seeds start to pop then add the ground cumin/coriander mix.
STEP 5
Pour in the coconut milk, water and lentils and stir thoroughly. Increase to a medium heat until the contents are boiling then cover and simmer for 15 minutes until the lentils are soft. Have a cup of water on hand to add as and when needed.
STEP 6
Add the lime juice and roughly chopped fresh coriander and stir, covering and cooking for another 5 minutes.
STEP 7
Garnish with desiccated coconut, a generous drizzle of chilli oil and torn coriander leaves and serve with your choice of rice or Indian bread.
So that's it! Super simple, one pot, no mess and packed full of nutrients and yumminess! I hope you like it and drop me a message to let me know how you get on!
Peace, love and a good dose of spice always 😉
Han x