10 Things I've Learnt Whilst Cycling the World Alone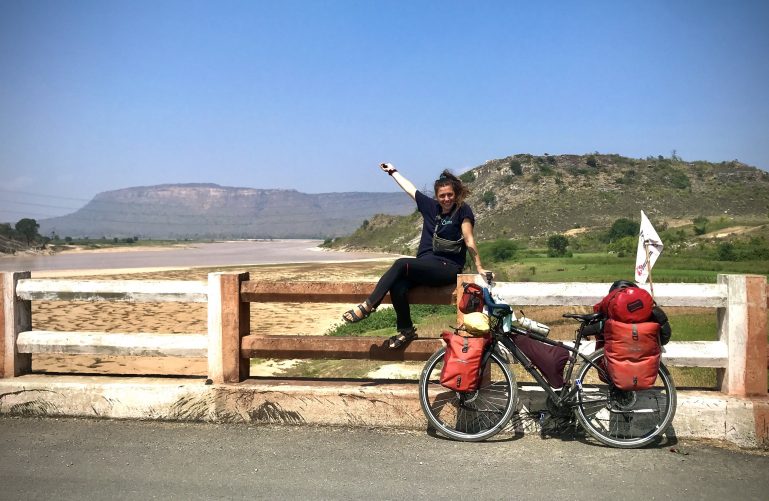 Riding a bicycle has enabled me to visit places that nobody goes and has provided an undeniably dynamic perspective on our wonderfully diverse planet. As I have been vigorously indulging in eclectic cultural practices, local delicacies and unique, once-in-a-lifetime experiences, my mind has opened and I have been forced to reflect on all I thought I knew and reevaluate it. Here's ten things I've learned…
1) CYCLING BRINGS OUT THE BEST IN HUMANITY
In a world that's full of competition, unnecessary wars and drastic cultural differences, there is something about travelling by bicycle that makes people gravitate towards you, bridge the gap between your backgrounds, connect as humans and share whatever they can to help. Whether that's friendly advice, a place to rest, a nutritious meal or even just a smile, people are impressed and surprised that you are literally putting blood, sweat and tears into discovering their country and culture, and they respect that about you – especially as a solo female. I've been given shelter, food, clothing, tools, health screenings and even money just because complete strangers feel compelled to share what they can to help me along on my way. This really reinforces one of my favourite mantras, 'kindness attracts kindness and peace attracts peace'.
2) POVERTY TEACHES A GREAT DEAL MORE THAN WEALTH
In the UK we are told that we live in a dog-eat-dog world where we must fight and compete to live a happy and fulfilling life. Consumer-based societies benefit off of social division and it's easy for us to become self-involved, preoccupied with our independent struggles and disconnected from those just about surviving around us. Journeying on two wheels has revealed untouched corners and cultures of the world that not only survive but actually live happily off next to nothing at all. And despite having so much less, it's become plainly evident that poor people are not always the unlucky ones. Suffering and scarcity seem to provide a catalyst for compassion and love which inspires a united community. It's usually the people with the least that have the most to share and have done so without hesitation. It should be everyone's right to have food in their stomach and a roof over their heads but also our human responsibility to look after each other. There are many people living round the world that are financially rich yet emotionally poor – perhaps the definition and concept of poverty should be reviewed and extended beyond just material possessions.
3) MY HEART IS TOUCHED THE MOST BY THE ONES THAT SEEM INVISIBLE
Rolling through a lazy town at golden hour on a Sunday allows you to make eye contact with people that you'd never normally get to see and the result is an inconceivable number of perfect, genuine smiles, friendly hellos and excited flapping waves. Appreciating and thanking the people that pick up the rubbish, nodding my head in acknowledgement of the street vendors or telling the women washing their whole family's clothes in the river that they're beautiful in their own language have become the most fulfilling moments of this blessed journey. It's these people that really help me to spread the happiness movement because their eyes instantly tell you of their gratitude that you've seen and appreciated them, particularly as a foreigner in an Asian country. After all, it's easy for the literate, the rich or the people in the service industry to look after you but the 'invisible' people, the ones that have no status, no agenda and not even the time to think before reacting to you, it's those interactions that string together the stops and destinations making the entire journey so extremely special. I guess this draws some kind of a parallel to what we think is important in life – yes, we can value the material possessions we have or the holidays we take and the experiences we choose, but it really is the tiniest things that glue everything together and they are often the details that we can all be guilty of overlooking.
4) LIFE IS A CHAIN OF MOMENTARY HAPPENINGS; BE PRESENT, OR YOU MIGHT MISS SOMETHING SPECIAL
Our existence is unpredictable, diverse, most of all, temporary; an intricately tethered pattern of random events make up our story but our legacy is how we impact others and the world with our reaction to them. Cycling empowers you to engage with any surrounding you find yourself in and really become a part of it. You are forced to connect with your present moment because you know you'll never find yourself there again. I've had countless things go wrong as well as so many extraordinary instances that have touched my heart in ways I struggle to describe; but whether those experiences are positive or negative, I've learnt that they flash before our eyes before we know it, so it's important to take what you can from them and appreciate them as they occur. This lesson, of how to truly value the now, is possibly the most precious because no matter what it is that you're doing, you are engaging and therefore, you are learning. Life is volatile and you never know what's around the corner, so stop waiting to reach your next destination and instead become the journey.
5) WE HAVE NOTHING TO LOSE AND EVERYTHING TO GAIN
Saying yes to things is a concept that's been around for a long time and for good reason. The more we interact with, the more we will have to reflect on, evaluate and ultimately understand. As I pedal around the world, I am taught lessons in ways I could never have fathomed and that's because I've been welcomed and integrated into communities taking part in practices that are entirely foreign and unfamiliar to me. Although it can feel intimidating, we learn and grow from forcing ourselves to encounter the unfamiliar and cycling has exposed me to places, cultures, religions and traditions I'd never even heard of. So I implore people to experiment; try something new, learn a hobby, get creative, travel, whatever, but push your usual boundaries and dare to gain a wider and more insightful perspective. Staying as you are may mean that you are comfortable but changing your routine revolutionises your mindset and empowers you into realising all you are capable of achieving. A diverse life is an enriched one and I am oh so thankful for mine!
6) LANGUAGE IS ONLY AN OBSTRUCTION IF YOU LET IT BE
It may be the most comfortable form of communication but there are many more ways to get across your intended point than just common words. Touch, expressions, gestures and movement help you to communicate anything – even when explaining that you're vegan and plastic free! And actually, willingness to communicate and understand each other alone is enough to enable you to connect emotionally and spiritually with anyone. Some of the most special encounters I've had are with people I've not been able to speak to. Sure, you might not understand each other's words but you can actively share a feeling and that's more long lasting than any words you could ever say.
7) IT'S BETTER TO BE TIRED FROM DOING SOMETHING THAN TIRED FROM DOING NOTHING
Reading, writing, exploring, talking, eating, studying, existing… Before cycling, no matter what I was doing, I don't think there's been a day that me or someone around me hasn't complained about being tired. As one of the most popular questions I receive, when asked, "Aren't you tired?" This statement is always my answer. And if I'm being honest, cycling all day is actually invigorating for body and mind as exercise is proven to release endorphins and the mental silence and presence in nature sends you into a meditative-like state. The exhausting part is experiencing the overwhelm of your stunning surroundings, the powerful gratitude that you feel deep in your heart for such a life-changing experience and the number of intense interactions with the breathtakingly beautiful world and people around you – that's a fantastic thing to be tired from in my book!
8) SCAREMONGERING HAPPENS EVERYWHERE: FEAR IS OFTEN SUBJECTIVE AND USUALLY IRRATIONAL
Being scared of embarrassment and failure prevent people from doing things they dream of like exploring the world or trying out their dream career. Racism, xenophobia, sexism, homophobia and all of the other ridiculous 'fears' and prejudices that unfortunately exist are also present across the world and they do nothing but spread hate and hurt. The media plays a hugely significant part in spreading rumours and hysteria driving a wedge between religions, nations and cultures. But what I've realised is that we are also part of the problem and love to scare each other! We are gossips, and even in the most remote places I am consistently warned about the 'bad men', the gangs and the crime of the next village, state or even country. The reality is that people are mostly decent and the likelihood of a psychopath waiting for me to coincidentally roll through their tiny village at such a precise moment is actually extremely small. These experiences reaffirm my calling for happiness activism; encouraging people to proactively share positive thoughts instead of focusing on and spreading toxic and irrational negative ones.
9) WOMEN ARE SUPERHEROES
Well, I kind of knew this one already, especially as I've had the pleasure of being inspired by so many incredible women in my life, but my nomadic lifestyle has introduced me to the world's realest superheroes and they are the working class women of Asia. These super strong, super loving, super human females work all day just like the men, sometimes carrying 50+kgs of raw materials, goods, food or water on their heads whilst maintaining the home, cooking the dinner, doing the whole family's laundry and bearing the children. In fact, they do all of the above whilst having at least one child bound to their backs! It's honestly incredible and so inspiring. This journey has proved to me that women can do everything, even create life, and despite facing international oppression, they still do it all with loving hearts. It makes me so proud to be a woman!
10) WE ARE TOUGHER THAN WE THINK
Most people assume I was an avid cyclist before this trip but the truth is that when I started this journey, I hadn't owned a bicycle since I was about ten years old and wasn't even very good at riding one. Now I've cycled more than 10000kms through six countries in scorching sun, intense storms, a freezing cold winter and monsoon rain. Just about everything that could have gone wrong has, from a snapped chain to broken pannier racks to being run over, getting stranded in the middle of nowhere and having to push my bike through 30kms of thick mud in the burning heat and I even got caught up in India during the coronavirus pandemic! Every challenge we face helps us to discover the extent of our resilience and most of all, our ability to overcome adversity. I set off from Vietnam as just a normal woman riding a bicycle armed with nothing but a positive attitude, now I feel invincible, like I could conquer the world.
And cycling has taught me all this… it's so empowering! If I can do it, anyone else can, too! So what are you waiting for? Explore, discover, fulfil your dreams and definitely don't hold back!