Zero Waste Aloo Gobi Recipe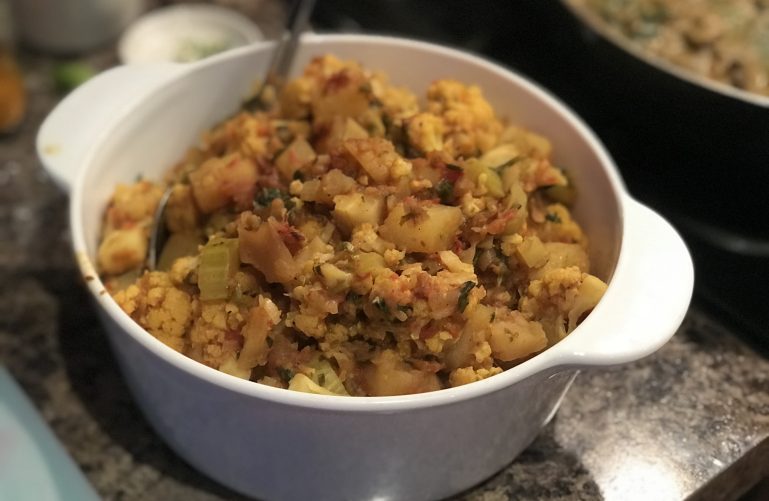 Aloo Gobi is a traditional North Indian dish that is enjoyed widely around the world but most commonly in India and Pakistan. Made up of the main ingredients 'aloo' meaning 'potato' and 'gobi' meaning 'cauliflower', this dish is hearty and full of goodness. There are many variations that may include peas or other veggies but the name stays the same.
Authentic Aloo Gobi does not have a liquid gravy which means the flavour comes from the aromatic spices added including tumeric . It is found all over India because the ingredients are widely accessible and cheap, it fills your stomach and it's also simply delicious!
This recipe gives a zero waste spin on this traditional dish making use of the whole cauliflower, including the stalk and stems for added crunch! Super easy, super tasty and always a crowd pleaser! Enjoy 🙂
SERVES 6
PREP TIME 10 MINS
COOK TIME 25 MINS
TOTAL TIME 35 MINS
INGREDIENTS
2 large potatoes (cut into 3/4 inch cubes, skin on)
1 medium cauliflower (cut into large florets and peel the outer layer of the stalk. Remove 1/2 inch off the bottom (and compost!) and cut the rest of the stem into 1/4 inch slices)
1/2 cauliflower leaves (separate leaves from stems and cut stems into 1/2 inch slices (like you would with celery) – chop leaves roughly)
3 shallots (diced)
1/2 red onion (finely diced)
3/4 green chilli (finely chopped) (optional)
1 sq inch ginger (minced)
3 garlic cloves (minced)
2 tomatoes (finely diced)
1/2 lemon (juiced)
2 tbsp rapeseed oil
1 tbsp garam masala
1 tbsp coriander powder
1 1/2 tsp salt
1 tsp tumeric
1 tsp cumin seeds
Handful of chopped coriander (including stalks)
Cup of water
GARNISH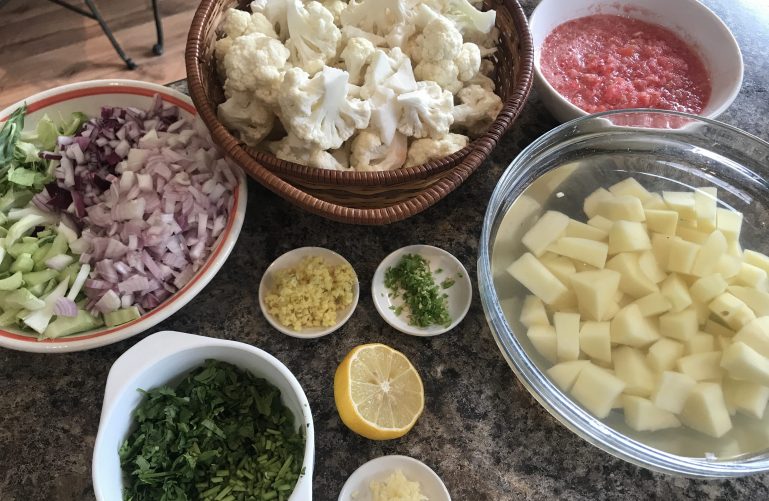 STEP 1
Heat your pot and add oil. Once the oil is hot, add the cumin seeds and cook for 30 seconds until fragrant.
STEP 2
Lower the heat (medium) and add your shallots, onions and cauliflower leaf stems sautéing them for about 5-6 minutes until soft.
STEP 3
Add ginger, chilli and garlic and cook for 2-3 minutes.
STEP 4
Add salt and spices, stir and cook for another 1-2 minutes over a low heat.
STEP 5
Pour in your diced tomatoes, stir and simmer for a few minutes before adding the potatoes. Increase the heat slightly, add a splash of water and cover for 5 minutes.
STEP 6
Add the cauliflower stalks and florets, cover and cook for another 10 minutes. Add a splash of water if necessary.
STEP 7
Squeeze half a lemon and mix in with a handful of roughly chopped coriander.
STEP 8
Serve with rice, chapati or other Indian bread with a sprinkling of extra coriander as garnish.