The perfect ending to my time in Thailand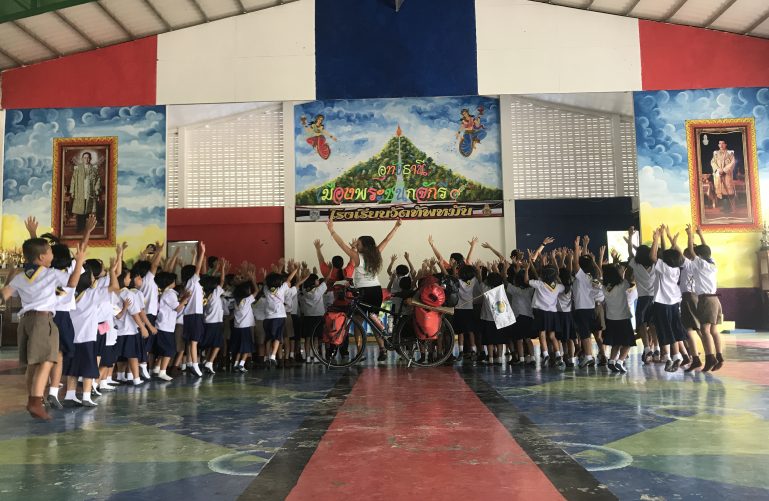 When I left Bangkok 9 days ago, I saw my journey to Mae Sot purely as my route to Myanmar. The reality was that it became my favourite part of cycling Thailand; not only because the views and roads were beyond stunning, but because I was fully integrated in Thai culture, hosted, fed and thoroughly looked after every single day.
I started the trip with a strong 112km stretch to stay with Aurelio, a lovely Swiss Warmshowers host that I'd organised staying with before leaving the city. He lived in a small country town called Tha Muang in Kanchanaburi. Even though it was all flat, going straight back into a 112km day after a long break can be tough, especially when you're tackling strong headwinds for 45km of your journey. I arrived late (obviously, because I'm useless at ever leaving early!!) following a loving goodbye to Jodie. Despite feeling tired and beaten from the relentless wind, I was rewarded with a spectacular sunset when arriving into Aurelio's charming rural village. Relieved to have finally made it and welcomed with open arms, my journey towards Myanmar had officially begun and that felt amazing.
I showered and changed then we shared wonderful cycle stories over dinner. Years ago, Aurelio cycled from Thailand to Switzerland so needless to say, we had lots to talk about. When morning arrived, he helped me clean my bike, tighten my bearings and made sure I was well fed and rested before wishing me well on my way north. In fact, saying goodbye to Aurelio late (again, haha) meant that I missed my next target of an organic farmstay campsite about 115km away which overlooked a beautiful lake. Although I was momentarily disappointed, I trusted that I was where I needed to be. This led to a perfect new sequence of events that made this journey as epic as it revealed itself to be…
A beautiful reservoir en route to Kanchanaburi

My wonderful Warmshowers host, Aurelio

Sunset arriving into Tha Muang, Kanchanaburi
I took the tiny dirt track roads through the sugar cane plantations which honestly blew my mind. Being surrounded by thriving nature on rustic, bumpy trails with not a soul around made it impossible to not feel deep love for life and gratitude for every moment. I started to search for a camping spot down the back roads where I asked locals if they knew of anywhere. Instead, I was invited to a loving family home where I was made the feast of a lifetime with my favourite vegetable – pumpkin! I really loved my time with this family because they were all so present – no phones and fully engaged with me and each other. This might seem like a strange comment, but really, phones and technology have taken over the world so much, even in rural Asia, people are still spending hours upon hours scrolling through Facebook.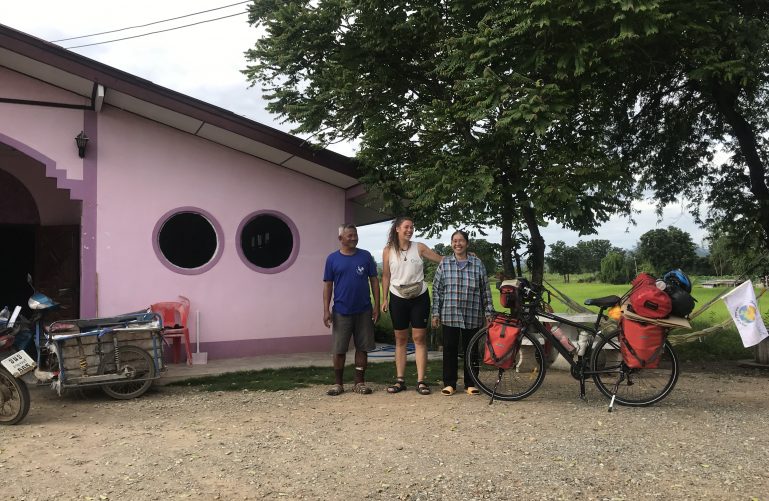 The next day I was bursting with joy and enthusiasm having recharged from my heart warming encounter the night before and full of delicious and nutritious vegan food. Winding through the never-ending green-lands, the day passed quickly and I started thinking about where I would find somewhere to sleep down the small country lane.
It was about 5pm when I passed a school. I rolled in and asked a lady if she knew of somewhere I could put my tent. They opened the old medical room which had a bed, fans and a bathroom. I offered to guest teach a fun and interactive lesson in the morning as a thank you. Little did I know that they'd organise an assembly to the entire school of 600 children followed by a lesson for two grades of children (aged about 7-10)! It was brilliant and I had the best time helping such smart, respectful and sweet children.
Late on the road following the class (again!), I cycled with pure glee all day just basking in the perfection of every direction I turned. Cycling through rolling hills gave new dynamics to the already outstanding scenery. Layers upon layers of deep greens lined in the distance with majestic mountains along the Thai-Burmese border.
Cruising along to the slowly setting sun, my mood was sky high as I passed a town called Khlong Chani. I heard a friendly "Hello!" from a group of people and thought I'd ask about where I could camp as the area was so beautiful. 
I spoke with a friendly couple, Aor and Mangkhol, who spoke some English and they invited me to stay with them. The whole family and village welcomed me and I went to bed with a huge smile on my face!
I offered a melon and a pineapple as a thank you but ended up leaving the next day with a lucky buddha charm, three bunches of bananas, a bunch of longans, a watermelon, some sweet potato fries and a (paper) bag of caramelised peanuts! We also shared a very special morning where we ate breakfast together following prayers at their local temple as it was 'Buddha Day'.
Arriving in Khlong Chani

Making offerings

Breakfast at the temple

Aor, Mangkhol and family, my hosts in Khlong Chani, Uthai Thani
Onwards and upwards from there as I needed to cover some ground to reach Mae Sot in time before my visa expired. It rained a little bit that day which literally dampened my mood and together with severe bum chafing (I know, ew, gross!) was distracting to say the least! Just as I was feeling a bit sorry for myself, the beaming sun broke through the clouds just as I reached the most incredible stretch of road. I reminded myself how lucky I was speeding down the country lanes to the heart warming sounds of magical natural life all around me.
Bumping along the rocky side roads had caused me to break a spoke which I stopped to take a look at. A woman on a motorbike pulled up alongside me and asked if I was okay. Her name was Ploy and she was visiting her home town from Bangkok. She invited me to stay at her home and even though I'd wanted to cover another 20km or so, it felt like a sign so I agreed with a smile and I followed her down the road to her beautiful house.
Blessing & building the new Buddha

Ploy, her mother and her beautiful daughter Nessa, my hosts in Baan Tha Magood
That evening was also a special one as they were holding a ceremony that evening to start building the base of a new Buddha at the local temple. So I visited two temples in one day and got to witness and take part in the prayers and blessings that meant so much to this loving and friendly community.
Another lovely host meant another late start but oh my God was I rewarded when I ventured (struggled!) down an impossible sandy track which brought me to a gorgeous rubber plantation.
I hadn't been riding long but I just had to stop. There was a mesh hammock set up with my name on it and the shade summoned me away from the heat of the glaring sun. I cracked open the watermelon and basked in my moment of bliss.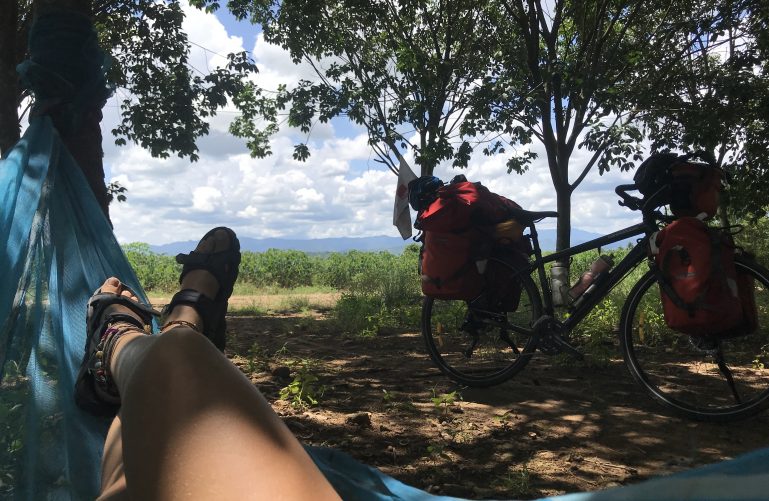 My next stop was in search for food when I was given heaps of barbecued bananas for free. It kept me going and the break made me realise how much time was getting on and that I needed to make progress fast. I picked up the pace and transitioned into fat-burning-workout-mode. Arriving into a small village at a beautiful sunset gave me incentive to find somewhere to sleep fast.
A policeman offered to take me to a beautiful spot he knew by the river with some friends who owned a lodge on the outskirts of the national park. He said it was 1km away but we ended up going on a 45 minute detour into the dark down a rocky and sandy single track. I remember thinking, 'where the hell was he taking me?!'
But it was worth it. It was pitch black when I got there and the family helped me to get set up fast. By the time I was done and showered, food was on the table waiting. An amazing beansprout and tomato dish and… wait for it… VEGAN BANANA CAKES! I had hit the jackpot!
We spent some time together whilst I helped the son practice his English then I went to bed more than content and full of gratitude.
Waking up next to the river was amazing. So many forms of life buzzing around you and the young sun glimmering off the water. Having breakfast with that view would be an incentive for anyone to get up and seize the day.
My lovely hosts next to Khlong Wang Chao National Park
After our photoshoot and loving goodbyes, the daughter gave me a pair of trousers as a gift which I graciously accepted. Back on the road and my early start saw me cover good ground before the heat slowed me down. Stopping to fill up some water around 11am, I was convinced into staying for lunch by some friendly local farmers. They bought me lunch and gave me some custard apples to take on my way.
Scenes changed to bight green rice fields and even though I'd planned to stay at the campsite at the top of the mountain on the way to Mae Sot, I took a wrong turn down an awful road which made me too late. Trusting the process, I didn't get mad and stopped the near side of the mountain where yet another kind family took me in.
Not only that, but they provided me with the most outstanding view I could have ever wished for! Porn, the mother, led me down to a wooden platform at the bottom of their garden which overlooked about 10 stunning rice fields.
I showered and shared dinner with charming daughters, both glowing with their cute smiles, bubbly personalities and heavily pregnant bellies. I felt like the crazy, foreign auntie to be.
Porn's lovely family, hosting me in Tak Province, before I tackled the mountain to Mae Sot!
Sunrise was beautiful and started my day perfectly. Getting on the road early was a must because I knew I needed to take my time being a little out of practice with significant climbs.
I remembered the struggle of battling sweat dripping uncontrollably into my eyes as I slowly climbed the (what felt like) giant task ahead of me.
Somehow, in the middle of the mountain, there was an ice cream man (which felt like a mirage lol). Unfortunately, I couldn't find an option that had no milk and no plastic so after a moment of feeling sorry for myself, I pulled my chin up and got back to the task of conquering the peak.
I reached the top around lunchtime and it was insanely hot. A well deserved lunch which was bought for me by a friendly lady at the top after she took a keen interest in my trip. I was becoming a magnet for kindness and it was genuinely overwhelming. Overwhelming and simply beautiful.
From my tent at sunrise

The final leg!

My lunch company 🙂

Mountain views…
The second and smaller peak of the day felt more challenging. Passing through noisy, dusty and inconvenient construction works left me with an inevitable flat tyre. I got to changing it whilst hiding in the small amount of shade provided by a worker truck and got back to the task. I wanted to make it to Mae Sot to get to a bike shop as I seemed to have a small issue with my wheel which I wanted to check before crossing to Myanmar.
The final incline pushed me and my enthusiasm but the spectacular decline at sunset quickly reminded me why I love mountains so much. I flew. Soaring at 65km/h and really feeling every bit of emotion I was capable of; grateful for my physical ability and grateful for my presence in such a breathtaking setting. Descending into Mae Sot made me emotional as I reflected thankfully on what the past eight days had brought me.
Picking all the sharp bits out of my tyre earlier in the day had slowed me down, meaning I arrived late by the time I reached the hostel. Luckily, Tua, the owner of Sleep Nest Hostel, was there and drove me all over town trying to find a place as I had to leave the next morning when my visa expired. 
We didn't find anywhere that night but after speaking for a while, he sponsored my accommodation, made dinner for me with his friend, Chai, and instantly became a friend.
I fell in love with the guys and their kind hearts which made me want to help them, too. So I overstayed my visa by a day (this costs 500 Baht by the way) to share some art and help Tua with the hostel. It was special because everyone staying there got involved with some drawing, too, and we ended up having a bit of a creative social for my last night in Thailand. 
The perfect end of my time in a fantastic country. A chapter full of love, epic food, unforgettable experiences and unparalleled hospitality.
Until next time.