An emotional goodbye to Indie!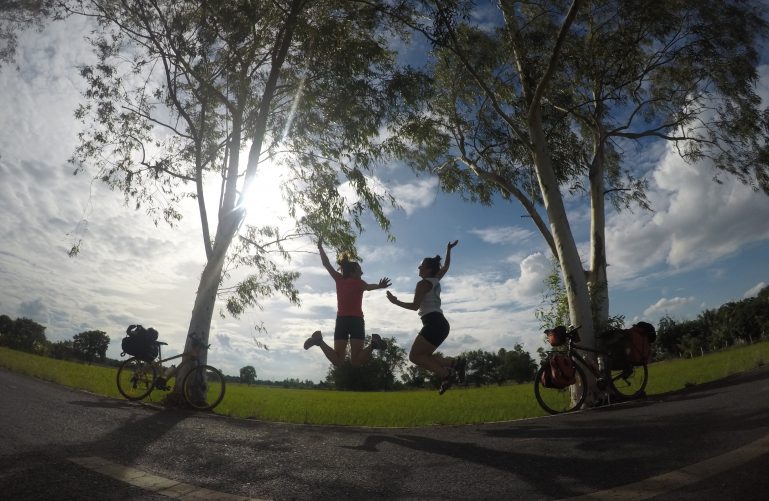 Yesterday I shared my last day riding with Indie after an entire month 👯‍
There are few people that I know that are as brave, resilient, hard-working, genuine and kind-hearted as her. As soon as I met her ten months ago I knew she was special, but by living in each others' pockets, I've been blessed with the opportunity to get to know her on a far deeper level. Let me tell you a few things about this special young lady who has become like a little sister to me…
At just 18 years old, she decided she was going to spend a year abroad and this is how she spent it:
She travelled through Vietnam, Cambodia and Thailand, worked a ski season in France, took a cookery course, raced sailboats in Wales, worked in a care home to save money to travel more, has just cycled through Thailand with me and is now off to climb Kilimanjaro ⛰
This young woman is a superhero in the making and I am honoured to know her 🙏🏼
We have laughed and cried together and shared some of the most phenomenal and memorable experiences.
She is ridiculously clumsy, frustratingly inquisitive and beyond all, undeniably loveable 🥰
Indie, I miss you already and you haven't even landed home yet.
I will miss waking up to you passed out cold every morning no matter how loud I am.
My days won't be complete without watching you fall over, drop whatever you're holding and of course, break absolutely everything!!!
How will I cope with travelling without you; someone who's as passionate about food as I am and will eat two meals alongside me with no judgement then confidently split 3kg of mangosteens?! 😋
Who's going to fill the water bottles, lock the bikes and most of all, carry the bag?! 😂
How can I possibly manage without my own personal photographer that also transforms into the world's most entertaining and awkward and goofy model?! 📸
And who is going to literally drive me crazy asking me the most ridiculous questions ALL DAY LONG like "what's your favourite vegetable?" 🍆🥦🍅
I'll miss teaching you Thai and laughing when you tell someone "goodnight" with so much enthusiasm when you actually meant "it's tasty" 🤦🏽‍♀️🤣
I'll miss laughing at us drowning instead of surfing, painting Sian's bar, couples massages on the beach, you (reluctantly) rubbing tiger balm on my legs, our 24 hour unintentional Cambodia excursion, meeting countless weirdos, eating our body weight in mango sticky rice and even all the disasters including our crash, your three flat tyres and when I got to cycle for the both of us pulling you home from the waterfall in Khao Yai! 🚴🏽‍♀️🚴🏽‍♀️
I'll never forget how much you've made me smile and there's now an Indie shaped stamp on my heart forever ♥️
To top it all off, to know that travelling with me has made some kind of impression on your daily habits including living pretty much zero waste AND eating way less meat means more than you could ever imagine 🌱
I am so proud of you; all that you are and all that you have already achieved. I know you will continue on to become even more successful and please make sure you don't forget to share it with me!
So yeah, I'll miss you, little sis! Spread your infectious giggle on your own journey, because it's going to be a special one! 😘
Me and you are proof of how travelling, engaging with and seeking out new cultures and experiences make you more well-rounded people…
Who knew that a vegan and a pig farmer's daughter could become like family 💚🐷🌱