10 tips for wild camping when travelling by bicycle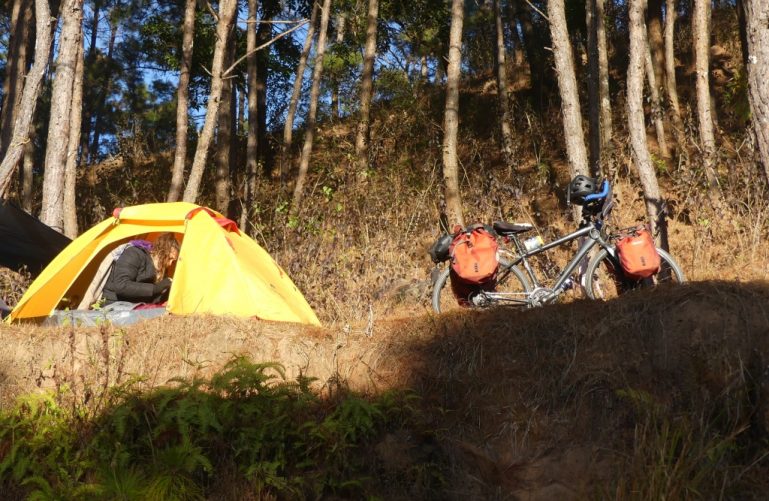 Finding the perfect camping spot can be somewhat of a daunting task, especially if you're alone, but hopefully these 10 top tips will help you select a great place, be best prepared and finally rest at ease after a long day in the saddle!
1. Start looking early
Be aware of what time the sun sets and start thinking about where you're going to sleep around two hours before that. That way, you are not so rushed for time as the sun goes down. It's also nice to enjoy sunset at a fully set up camp.
2. Take good opportunities
If you find a great place earlier on in the day, take it! So what if you've only ridden 25kms?! There are no rules so don't judge yourself, you deserve it! 😉
3. Scope out a water source
Rivers, waterfalls, lakes, pumps, pipes…they are usually closer than you think (unless you're in a desert!). Having a water supply is a top priority for drinking, washing, cooking and cleaning up. In villages there tend to be pumps or pipes and in remote nature or mountains there is usually a lake, river or a small stream of water trickling down somewhere at the very least – keep your eye out as you start looking for your spot!
Pro tip: don't camp or go to the toilet too close to the water source to avoid any contamination!
4. Carry a large empty bottle for water reserves
As you start to think about the close of the day, fill your 2 litre reserve bottle with clean drinking water. That way, even if you struggle to find a good, clean water source, (especially if you don't have a water filtration device like a Lifestraw), you'll have enough for the night and morning for both drinking and cooking as needed. Plus, you don't have to carry so much extra weight, save space and you can rescue a recycled bottle. (make sure you check out my blog post on how to live a zero waste lifestyle whilst travelling for more tips on living an eco-friendly lifestyle on the road)
5. Go unseen
This is super important, especially if you're a woman travelling alone and want to avoid unwanted attention. Sometimes, if you've found an incredible place but people are around, you may have to wait till it's dark and return later when people are no longer waiting out and watching you. Other than that, look down the smaller roads, take some time to look around on foot and make a dash for it when people aren't looking! Then leave early in the mornings to avoid unwanted attention when the world wakes up!
There's nothing worse than waking up to this…
6. Carry your basic staples
I always ensure I have rice, nuts, lentils, oats, some fruit and spices so that I'm never caught without food if I find an epic spot. When you're exploring some of the most beautiful places in the world and are staying undisturbed in breathtaking nature, or maybe wake up to horrific weather, you may want to stay an extra day so it's always better to be stocked with basic rations. This way, you don't have to leave camp and draw attention to yourself.
Pro Tip: If you haven't got a stove and it's raining, you can make your own beer can alcohol stove. Super easy! Click here to view a tutorial.
7. Use maps to your advantage
The Google Maps satellite feature can be really useful to identify forest areas and natural water sources. If you know you are making progress in a certain direction along a particular route, Google Satellite Maps can help you to have a rough idea of the terrain you're covering and how far you may be from a major water source like a river or lake.
8. Look out for natural proctection/shelter
When you're camping in the winter or somewhere with extreme winds, look out for natural help in the form of caves, trees, hills, big rocks/boulders etc. Having protection from a freezing chill can completely change your experience when camping out in the cold!
Pro Tip: single tall trees are more prone to lightening strike so it's better to take shelter under dense foliage on low ground away from water. 
Pro Tip: you can make your own temporary cover with a tarp or external groundsheet and your bungee cords. This can be a great wind breaker and also help prevent the humidity from drenching your tent on a dewey morning.
9. Think about the morning sun
No one likes having to put away a wet/damp tent so it can be useful to think about where the sun is rising in the morning when picking your spot. An unobstructed sunrise can thaw out your tent and get you warm ready for a nice and early departure!
10. Leave no trace
Self explanatory… Leave the world as we love it to explore it most – untouched!
---
There really is no better feeling than sleeping in nature, at peace under the stars, with just the things you need – happy. I hope these tips helped to give some confidence if you're thinking about wild camping for the first time on tour! Just get started, you'll love it! 🙂