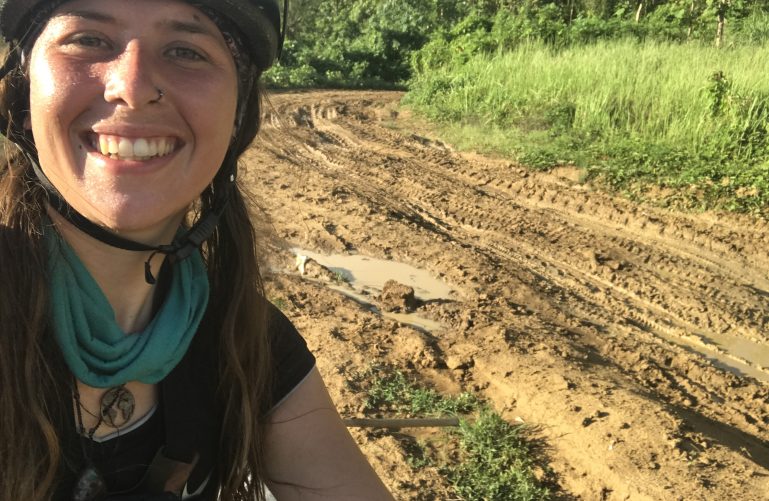 My journey from Luang Prabang to Vang Vieng was far more eventful than I'd originally anticipated and I could never have imagined what the next days had in store for me so be prepared for a long and detailed story…
It took me five days to get to Vang Vieng and this post covers the first two. So much happened that I just have to share it all with you…
*****
As the Chinese have taken over the majority of Laos and were digging the life out of the main road, I opted to take the longer and more scenic gravel route following the Mekong River. It was remote and passed through fewer smaller villages which would give a more local experience. The weather forecast was clear and I should have been able to cover the 85-90km in a day…theoretically.
This covers hundreds of kilometres from North to South!

The new Chinese Dam

Chinese marketing everywhere
I started out early with a noodle soup from the morning markets around 6am. The first half of the road was one I'd already travelled by motorbike to Kuang Si Waterfalls, but this time I travelled slowly enough to truly appreciate it. I decided to go unplugged; no music, no distractions, just me, Queenie and the earth around us.
I stopped at a river view restaurant for a coconut and was lucky because after speaking to the owner, I was invited to see the kittens that had been born moments before out the back. Still moist from their mother's womb, five babies stretched erratically round each other in search for milk. It was beautiful and heart-warming to watch.
Kittens, moments after being born!
Further down the road, I'd spotted a water cooler – an ideal opportunity to do a refill stop. There I met Theresa and Joa who asked about where I was going with my bike. Just as I was explaining my project, a local man appeared on a small pink child's bicycle. He seemed to either be drunk or perhaps mentally disabled. He wore shabby clothes with no shoes and fumbled around causing people to stare at him. I asked his name and shook his hand. He welcomed my interaction and tried to converse with me a little. He didn't make much sense but that didn't matter; my heart showed him love and he felt it. Being present for the rest of our conversation meant something to him. I explained to Theresa and Joa that this was a key example of what I want to show people; when we apply love, compassion and kindness to all that we do, it's what we become open to receive. That man may have come across to some as someone to avoid, but that's exactly how preconceptions can become so damaging. He was just looking for someone to embrace him.
Shortly after the shop was the sign to turn left for Kuang Si but I turned right and the road changed from tarmac to gravel.
The first 5km or so were flat and really easy to bike then the road became rockier across small rolling hills. Gaps between civilisation increased and when I saw the next 'shop' (I use that term loosely) around 1pm, I decided to stop for a cold drink.
A man sat inside the wooden shack hiding from the sun. I say man, but maybe he would have preferred me to call him a woman. His clothes were plain but he wore make up and earrings. Together with his sass, I'd say he was as female as I was. We sat together for 15 minutes or so in the comfort of the shade. He gave me 3 bananas to eat and a few glasses of water with ice. I ended up with handfuls of sticky rice and taking away four more bananas for the road – what a gem!
The beginning of the double track road…
From there was where everything changed. The road became significantly more uneven and hillier with little civilisation around. Most of the buildings, shops and houses I saw seemed deserted. But that didn't phase me and I was enjoying the challenge and the peace of being alone in nature.
The path divided and I had to make choices. Opting left, I cycled down a big bumpy hill to a shady spot under a tree. As I got closer I saw the big pool of stagnant, green water and the million bugs that stood between me and the other side of the path. Before wading through the dirty water, I thought it best to check out the other route. A motorbike conveniently passed as I reached the intersection.
'Muang Nan?' I asked.
They pointed back the way they'd come from and I breathed a sigh of relief as I didn't have to wade through the mouldy pool.
Even though it was past the hottest part of the day, the sun still bore through my skin as though I was cycling on Mercury, not Earth. I could feel every single ray. My water, what was left of it, was now the temperature of a fresh brew and it was almost painful to drink when I already felt like I was inside a microwave.
I savoured my last 500ml as much as I could but it wasn't enough to quench my thirst and I hadn't seen anything for miles. It started to feel like I had been teleported to the Sahara since I'd waved goodbye to that motorbike. I guess I was learning the hard way that Laos had more limited supplies than Vietnam and I needed to be better prepared carrying more food and water on my journeys.
A cloud of smoke behind a wooden hut with a collection of 25 litre water tanks indicated there was life close by. Choking as I got closer, I called, "Sabaidee!" And a man appeared. He had been burning his rubbish as they do all over Asia. I asked for some water in Lao and he gave me not just water, but also a cooler with ice – what a dream! I drank half my body weight, refilled my bottles, thanked the man and made a a move. I still had a fair journey to Muang Nan and the day was getting on.
WATER DONATING 💦 LIFE SAVER
From this point, I finally had a clear view of the Mekong. Lush greenery surrounded the wide, powerful river and you could see the strong current gush through the centre of the deep brown water. I paused for a moment to appreciate the view.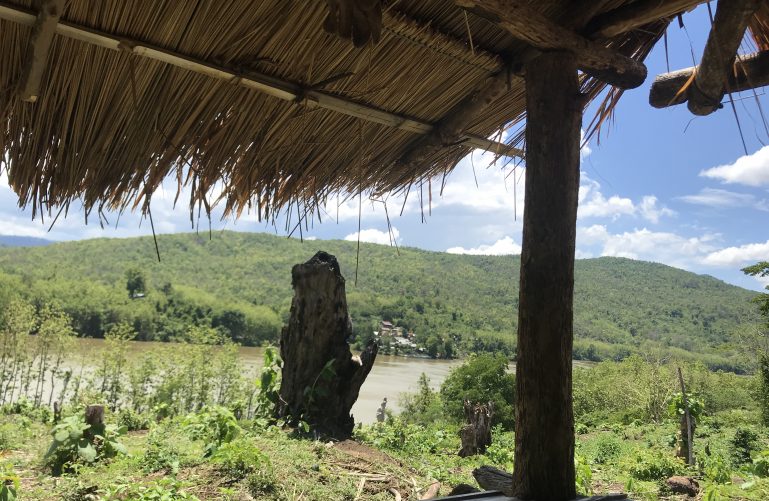 Then the weather took a sudden turn. Heavy grey clouds swallowed the clear sky ahead of me just as I came to a divide in the road. Uphill and left was towards Muang Nan and right was to a local village. Thunder bellowed from above me and I decided on right. It was around 4pm and I was still over 30km from my destination. Without knowledge of the road ahead, getting caught in a storm would have been a terrible idea.
The first dirt track took me to a temple. Other cyclists had recommended camping in temples so I thought I'd gotten lucky. Wearing only shorts, I wrapped my waterproofing sheet around my waist to cover my knees to show respect.
A monk was outside looking confused at me. I gave the universal sign for sleeping (palms together on one side of your face with a head tilt) but he just gave me an angry expression. He went inside and got a cigarette and his phone. He spoke to the other monk, who was much older, and his angry expression worsened. A few minutes went by and he said nothing. I asked again but pointed in every direction as if to say, I don't have to stay here but where can I stay? I also signalled at the darkening sky as an explanation as to why I was invading his space. I was shocked to receive such hostility from a man that was supposed to dedicate his life to self purification. (I guess he didn't want a solo female in a place that they are supposed to be free of temptation.)
He reluctantly pointed at a half-open sheltered building across the grounds from where he stayed. I thanked him and wheeled my bike across the courtyard of the temple.
Whilst unloading my bags about twelve local children crowded round to see what the crazy white lady was doing. I unpacked fast. The rain was coming any second and the moment I got my things under cover, thunder and lightening cracked across the sky. Trees were swaying dramatically, leaves were flying everywhere, the metal roof creaked and there were loud crashes from falling twigs – it was insane!
Right, finally time to use my tent. It went up so easily which was great, within 20 minutes I'd unloaded and set up. And it was now absolutely pouring it down; literally as though God was pouring buckets from the sky.
I walked over to the children that were hiding under the edge of the building I was camping in and asked them their names in Lao. I tried teaching them how to ask and answer the same questions in English but they were all laughing at me following two leader kids making what were obviously mocking comments. I tried to speak to them again but they continued so I told them to go away; I had to get sorted and didn't have time for rudeness.
Now onto washing and cooking. The monk refused when I asked for a place to get food and water, so I used some of what I had left in my bottle and my emergency stash of noodles to cook myself some dinner.
By now it had stopped raining. I looked across the temple courtyard to see not one, but two giant rainbows spanning the sky, right behind the temple. I couldn't help but smile.
As I was making my noodles, a farmer woman holding her baby appeared. I explained through my limited Lao and sign language about the horrible monk and she invited me to sleep at her house that was right next door. I wanted to go with her but I'd just set up everything and it was inconvenient to move after unpacking and cooking! Despite that, there was no way I was going to refuse her kindness.
It took me seven trips but boy, was it worth it. Their home was roomy, with two floors and made from dark wood. They had a table and chairs (which is more than a lot of Laos homes), as well as dark wooden shelves and drawers in the corner. In the house there was another lady that must've been her mother. Her eyes smiled and I instantly felt welcomed. I guess when I had seen the two rainbows it was a sign that the universe was sending me not one, but two wonderfully magnanimous mothers.
A young boy walked in. It was one of the two leaders of the group of kids from earlier. His face spoke a thousand words as the stranger he had been taunting was now in his home. I said, "Sabaidee, Joan," as I'd remembered his name and he said hello back whilst bowing his head and sitting at the table quietly.
They pointed to where I could get washed and I explained in Lao that I was vegan as they asked me if I wanted to eat with them. After a hard day, I was still hungry after my noodle rations so I was grateful. The grandmother set me up the best bed I could have asked for… A queen-sized cushioned layer base, duvet, pillows and mosquito net on the floor in he living room. I felt like I'd stumbled into a hotel, not a farmer's house!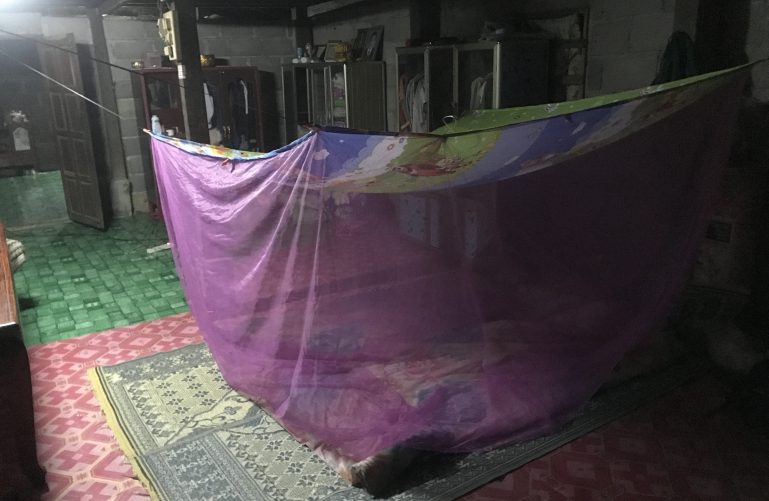 After washing, I got out my art utensils and poi for Joan and the baby to play with. Joan's eyes lit up and it soon became apparent that he was a talented artist. We drew and painted together for a while and I made some cue cards and gave him a lesson to help with his English. He seemed so happy. I think he'd learnt to be a little bit more open minded from our interactions together that day which was a really nice thing.
Joan using my art supplies

English lesson cue cards 🙂
Dinner consisted of rice, young bamboo and chilli. I really hate young bamboo but didn't want to be ungrateful so I smothered it in chilli and forced it down with water pouring from my eyes. I thought to my family, my Dad and my little brothers, who would have been laughing hysterically at the sight of me torturing myself with chilli in that moment.
I went to bed grateful for my temporary surrogate family. Full, clean, comfortable, happy and absolutely exhausted.
*****
Waking up to early morning rain worried me because I knew the road was not going to be in a good state. During the time I'd taken to get ready, eat more chilli and bamboo for breakfast, say my thankful goodbyes to the farmer, her baby and Joan as they went to work in the fields and help the grandmother pack away the bed she'd made for me, the rain had stopped and the sun had emerged. Usually I'd hope for the sun to be forgiving but this time I prayed for the heat to dry out the road.
A grateful goodbye to this lovely, friendly and hospitable family
As I packed my final things, the grandmother was massaging her knee on the floor. She looked in pain so I got out my tiger balm and gave her a leg massage for about half an hour. I gave her a knee-tube-grip and put some tiger balm into a pot for her to use. It was nice to give her something small back for the loving welcome I'd received. She was really appreciative.
A local little girl had to help me get my bike out of the village because there was a big slippery hill to climb out of. It kind of set the precedent for the day – pushing my bike through mud and up hills. In the morning I barely saw anyone on the road other than a couple of tractors that must've been transporting people from one village to another. When I realised that tractors were the primary form of transport on a day like today, I started to realise just what was in store for me.
When I tell you that this was probably one of the most challenging things I've ever done, I am not exaggerating. When I'd find a patch of drier ground, I'd be back on the bike for a maximum of 50 metres and then pushing again through sludge and puddles and poking the mud out from blocking my tyres with a stick.
To give you an idea of what I pushed my bike through all day!

A passing tractor… the most popular version of local travel…
The problem was that my wheels were closer to road bike tyres than mountain ones and not cut out for that kind of terrain, plus, I was travelling so heavily with over 25kg of luggage all on my back wheels (which I was unable to change whilst in Laos) so pushing my bike uphill was an actual nightmare, especially through mud.
It also doesn't help that I'm a massive klutz, and by the time I'd built up the confidence to try and ride through a puddle instead of pushing, I slipped and toppled over. I had to laugh at myself because beaming positivity and humour was definitely the best way to tackle a situation that wasn't going to end any time soon. To make matters worse, the piercingly hot sun was scalding my skin and I was sweating uncontrollably. There was no shade and nowhere to rest as the ground was basically a mud bath. Keeping my chin up, I persevered whilst trying to keep pace as it had taken me nearly two hours to move just 6km.
The gorgeous local children hanging out with me down by the river

Why wouldn't you want to roll around in mud puddles? 😂

MUD FIGHT!!!!!

Possibly my favourite ever photo!
It was nearing lunchtime when I found myself in a small village. Seeing a man walking through, I pointed towards the river and he nodded for me to pass through what seemed like his garden.
Finally! I'd found an opening to have a swim in the Mekong. I jumped in fully clothed and some adorable kids joined me that honestly made my day! Three boys who were more than happy to perform for the camera, jumped and flipped into the river and played in the mud puddles giggling hysterically. A couple of other kids and a child monk joined us when a mud fight broke out which was fun to watch. I couldn't help but feel all the challenges I'd faced so far were worth it; it was the perfect lift to my day.
When playtime was over, an older child monk carrying a machete approached the kids as they walked up to the house. I could tell he was being mean and actually threatened one of the three boys by holding the machete to his throat. I shouted and he gave me a dirty look and left. I was so shocked! Why had my recent interactions with monks been so awful? Maybe their families had forced them into such path because they were poor and couldn't afford to live otherwise? I wasn't sure, but it upset me.
I reached a bamboo bridge that crossed over a small river. Sounds pleasant, I know, but the reality was that this bridge was full of giant holes and made of round pieces of bamboo – not the ideal flat surface to roll a heavy bike along. I thought about crossing the water but it was deep enough to reach halfway up my water resistant (not waterproof) bags containing my laptop, fire equipment, art books and other valuable items that would have inevitably gotten ruined – the bridge it was.
The bamboo bridge

When the bike got stuck in the bridge 😂
Moving as slowly and as controlled as possible, I tried to guide my bike across the bamboo beams to pass the flowing water. CRACK! I hadn't even reached the water part and my back wheel was halfway through the bridge all the way down to the cassette. My drivetrain was jammed in the wood and I was still trying to keep the bike balanced so that I didn't break or damage anything.
How was I going to do this?… I used all the strength I had to lift the back of the bike (and trust me, it's seriously heavy) whilst keeping the front straight so that it didn't fall off the bridge.
Now that I'd solved problem one, the next issue was actually crossing the bridge.
I was saved by three young girls (god knows where they came from!) who appeared by magic about a minute after I'd been standing there thinking logically what would be best to do. They helped me to carry the bike across the bridge to dry land.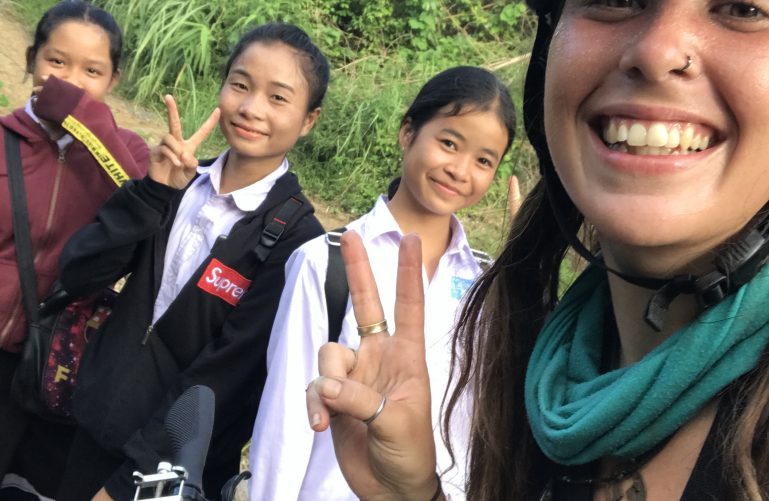 I continued on until I was running out of water again when I passed the next village. Leaving my bike on the path, I went in pursuit of water. A lady refilled my bottles with liquid out of a giant plant pot. There were definitely things floating in it but there wasn't much I could do. I double checked by acting out drinking and she nodded so I gulped the dirty-looking water and hoped for the best.
Typically, bottled water was just ten minutes down the road where there was a shop with people outside. I sat with them and they gave me some bananas. One guy spoke good English and when he relayed my story to the rest of the people there, they were all crying with laughter. As delighted as I was that my crazy tale had amused them, I had to get going as time was not on my side.
Leaving armed with plenty of water and lots of enthusiasm, I powered on through more mud and puddles before I finally reached hard, flat ground. I could have cried in that moment, but there was no time for that. It was 6pm and I still had to get to Muang Nan before sundown.
I spurred on my jelly legs as locals looked on at me in disbelief, understanding what I must've just travelled through. The road felt never-ending but cycling through beautiful banana plantations at sunset helped to soothe the cramps in my legs.
The final stretch! Less than 10km to go!
I made it to Muang Nan just after 7pm. Sitting on my bed, I took a few moments to process all that had happened in the last two days. What a phenomenal experience.
I'd had a wild time and knew all the struggles were worth it. My wonderful stay with my temporary family, playing with the kids in the river and the beautiful views along the way… I was grateful – for the experience and that it was over.
Tomorrow I was to face my next challenge… A seriously massive mountain…