Médecins Sans Frontière (Doctors Without Borders)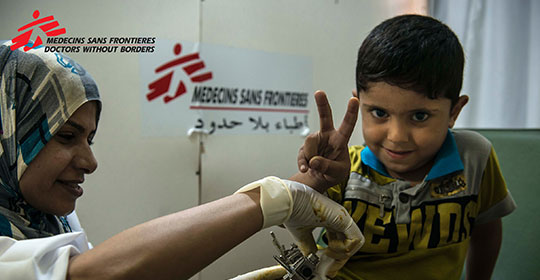 "We're really grateful that Hannah has chosen to support MSF, especially with such an impressive fundraising challenge. We're looking forward to hearing more about your 10,000 km journey and will be cheering you on all the way! This support comes at a crucial time for MSF as your fundraising efforts will help us to act fast to save people's lives in conflict zones, natural disasters and epidemics. Thanks to incredible supporters like Hannah, last year MSF was able to carry out over 10 million medical consultations in more than 70 countries around the world. From the Ebola outbreak in the Democratic Republic of Congo, to the Rohingya refugee crisis in Bangladesh, MSF deliver medical care where the need is greatest. On behalf of our patients and everyone here at MSF UK, thank you, and best of luck."
MSF is an extremely special organisation that has been introduced to me through a close friend of mine, Carl Rendora. Carl has been working directly with MSF in Nigeria, South Sudan and Sierra Leone, to name a few, helping to build and install safe water and sanitation in the new hospital sites that MSF erect in crisis zones where they are needed most. What resonates with me about how MSF tackles major international crises head on is that they do not discriminate and will treat everyone equally. This makes their hospitals a real safe place which is extremely important. I'm really excited to learn more about the wonderful projects that MSF have internationally, particularly how they are supporting the 706,000 Rohingya refugees that have fled Myanmar to Bangladesh (since August 2017) as I want to cover this raw topic and will be cycling through both countries on my journey. MSF is an inspiringly omnibenevolent charity which mirrors how I feel that we should all love one another; a partnership that was meant to be. I am excited to continue on this journey together and support MSF to keep saving and changing lives.
To find out more about the incredible work that MSF are doing, visit their website.
Click here to donate to Hannah's Happiness Project.
GET SOCIAL