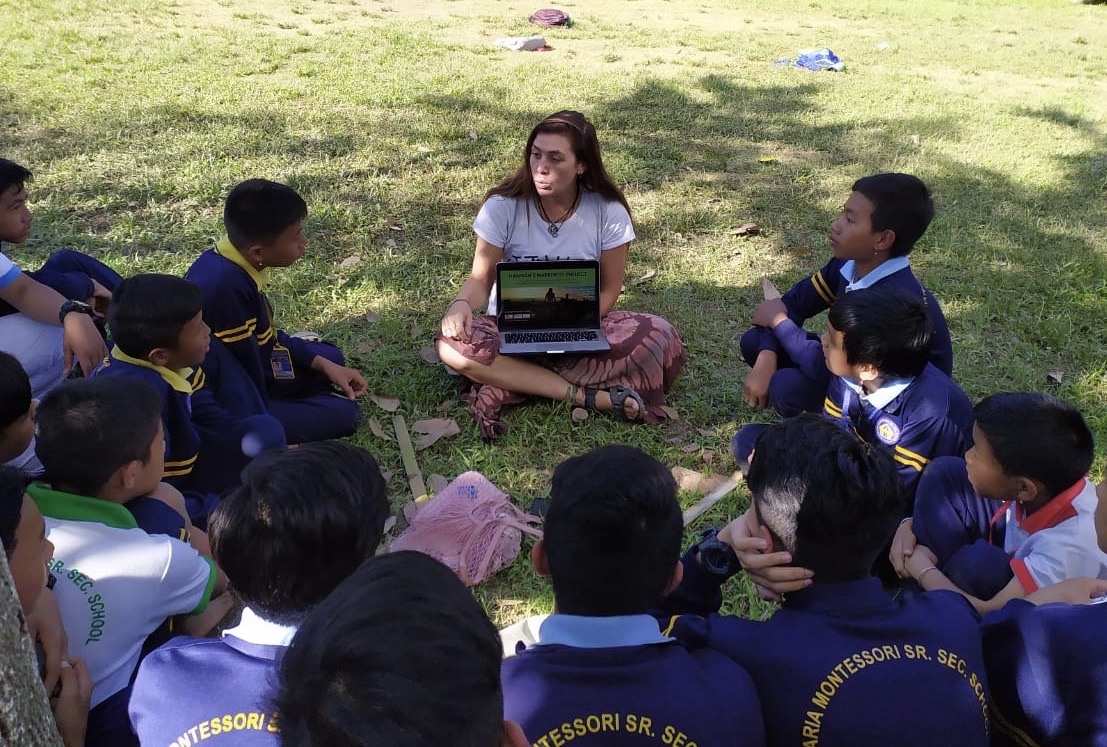 My aims of this project are not solely to fundraise but also to add value to people and communities along the way. Here's an insight into some of the work I do…
Public Speaking
I have been privileged enough to be invited to a number of organisations, universities, colleges and a TEDx event to give motivational talks on my project, environmentalism, female empowerment, the concept of happiness activism and social balance.
I am always honoured and grateful to work with a wider audience to help spread a positive message and promote necessary and valuable societal progress.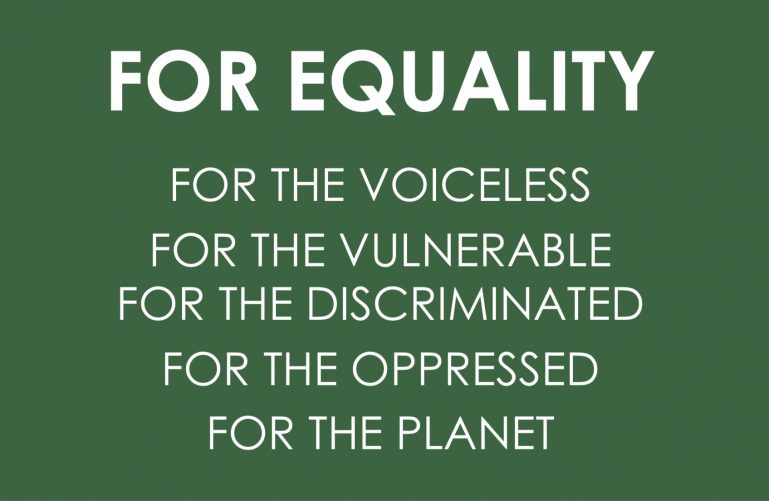 You can watch my TEDx Talk here.
If you would like me to give a talk, presentation or workshop for your organisation, please get in touch via the contact page.
Working with Schools
Eco Awareness Programmes
Protecting our environment is something that I am hugely passionate about and it desperately needs our attention. My aim by going into schools and sharing my knowledge is not only to educate but to INSPIRE. I help to lay the foundations for a more eco-friendly future and provide follow-up to every school that I visit following setting short term, mid term and long term goals. I offer assemblies, teacher workshops, small group presentations, awareness through art sessions, set up school eco-programmes and can paint eco-related wall murals to promote the importance of environmentalism.
Guest teaching English
Many of the places I visit are extremely remote and sometimes very poor. Children often know that their lives will be exactly as their parents' are and this can lead to them being extremely demotivated when it comes to their education, especially when it comes to learning English – a language that they feel they will never use! So when I can give free English lessons, organise motivational assemblies or just spend some time interacting with the students, this can serve so well as they realise they could one day actually USE their skills and the English language that they're learning at school.
Animal Rights Awareness
Most people, especially children, would consider themselves as being kind to animals but the animal agriculture industries and media have created a deep social conditioning that normalises the horrific abuse, torture and murder of billions of innocent beings all over the world every single day. I help to make the cognitive bridge between where our 'food' is sourced and the animals that end up butchered on people's plates. I offer support, advice and tips to educate young people on how to introduce a plant based lifestyle. The only way to end the animal abuse is to go vegan.
Female Empowerment Sessions
All over the world women suffer disadvantages throughout their societies and now the western world is finally starting to listen to our voices. I help to inform and raise awareness about both the apparent and hidden challenges that women face, the discrimination and sexualisation that result in living in fear and the lack of opportunities just because of our gender. As a solo female international cyclist, I am able to inspire, uplift and empower young women, particularly in underprivileged or less developed societies, where it is unheard of for women to do such a thing.
If you are from a school or organisation that would like me to visit your establishment, please get in touch via the contact page.
Note: It is important to do your research on voluntourism and seek advice on the impact of temporary relationships with young children. Whilst appearing as a guest teacher at a 'school' or 'orphanage' can help to motivate and inspire students, working with children for a few weeks or even a month can be extremely detrimental to their personal development, ability to trust adults and can often be contributing to paying into the sexual exploitation of children. For more information, please read here.
The Jar of Gratitude
Encouraging positive practices and connecting strangers along my journey…
I'm going to keep this description slightly mysterious because it makes it more special when people get to get involved but there are three parts to this micro-project and it's guaranteed to leave you smiling! If you meet me along the way and want to take part, be sure to ask and I'd love to share it with you!
Public Interactions
Spreading love in the best way I know how – breaking down social barriers, connecting with people and showing people how to have FUN!
You might catch me on the streets somewhere giving out free hugs, massages or flow arts classes. I also perform street shows with fire or LED props. The aim here is to inspire your inner child! When we become adults we seem to stop playing and I like to remind people that it feels good to let your hair down!
NGOs vs NG-NOs!
With the drastic rise in popularity in eco-tourism and 'voluntourism', it can sometimes be difficult to work out how you can help the most and which companies you can trust. I've outlined some key points to look out for and as I continue on my journey, I will detail any credible organisations that I come across below so that I can help you to make wise travel choices.
Things to consider and tell-tale signs of NG-NOs:
Never volunteer at an orphanage.
They are often businesses and it is common for them to be connected with the sexual exploitation of children.
Avoid short term volunteer programmes with direct access to children
This can be extremely damaging for their development in emotional attachments with personal relationships.
Avoid programmes involving children without background checks
This indicates that the organisation is not thorough enough with ensuring child safety
Avoid programmes involving children without training on their child protection policy
Every volunteer working with children should know what systems are in place within said organisation to protect them. It's also worth checking the internal complaints process for if the children have any concerns.
Do the children seem desensitised to new foreigners?
This may indicate that they're so used to fickle relationships which has long term damaging effects in relationships.
Avoid programmes that require no skill set from you
It might be hard to hear, but you are probably not that useful (ask yourself, could a local, unskilled worker benefit from doing this job instead of you) because as much as we don't want to hear it, it is often the case that our money is more useful than our time.
Avoid organisations that accept ad-hoc donations in the form of presents
This can often give a sense of dependency. If you have items to donate, do this via a separate and official distribution agency so that your contribution(s) can go to where it's most needed.
It is often far from our thoughts whilst we travel, but if you think you've noticed something suspicious or a potential indication of the sexual exploitation of a child, please ensure you report it to help the relevant local authorities with collating what can be crucial information.
Never Forget Elephant Foundation – Northern Thailand (400kms Southwest of Chiang Mai)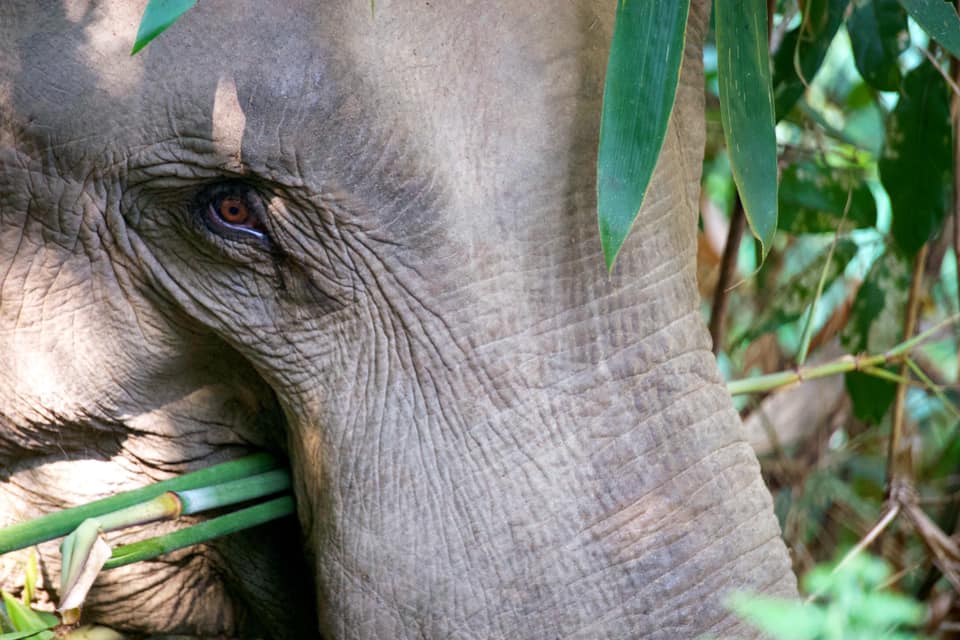 The Never Forget Elephant Foundation provides mental, physical and environmental sanctuary for elephants that have been used for entertainment purposes and logging. They run incredible immersive, sustainable and ethical week-long programmes and yoga retreats that enable you to connect with the Karen Hill Tribe people at the local level, learn about the challenges they face through owning their elephants and inspire each other to make changes that improve the lives of Asian elephants and the global community as a whole.
Set up and run by the incredible Ava Lanchette, fellow vegan, full-time elephant lover and all round fantastic human, who had more than 4 years working with elephants in Asia before setting up the fantastic cause. Ava has hand-crafted the programme and site to be as sustainable and ethical as possible allowing her to 'bring the elephants home'. The NFEF aims to build a diverse and enlightened network of worldwide supporters who want to make a difference in Asian elephant welfare through a quality educational visitor experience. By putting your money into ethical eco-tourism activities similar to those provided by The NFEF, you will be actively putting a stop to the horrific cruelty that so many elephants face whilst also supporting authentic rural local communities.
Dreams Givers – Luang Prabang, Laos
Set up by Her Vang, a local Hmong young man who I met when we crossed paths cycling in Vietnam, Dreams Givers is a small project that gives local ethnic minority children the opportunity to learn and practice their English. Following his own struggles in his youth, Her now rents and lives inside a house with fourteen children to ensure they are able to go to school and get a good education. Unlike some bigger organisations, you are not volunteering in a way that can be detrimental to child relationships being put in a position of trust as their 'teacher'. Instead, if you are passing through Luang Prabang, you can simply help the children to practice reading to you for short sessions outside of their regular schooling. Her also raises funds to support the students and their poor families with things like dental check ups and new clothing. A small gesture can go a long way. If you want to find out more about how you can support Dreams Givers, follow and contact their Facebook page.
FairTrek – Luang Prabang, Laos
FairTrek are building a reliable platform for remote Laotian villages to have access to tourism which provides a stable income for both individual families and the community whilst also protecting the environment. They use local guides to not only give their customers the most authentic experience, but also to manage expectations between the hosts and the guests which is crucial to minimising culture shock for both parties.
They also work on undoing the damaging work from past NGO programmes that have caused more harm than good. In one village, two different NGOs had previously come in to help provide a constant water source for the community, but without proper understanding of the geology (as there was a lot of limestone in the area), clear instructions for ongoing maintenance or follow up, the systems broke down, leaving the villagers in a worse state after having given them something so valuable for it to then be taken away. FairTrek's schemes have a large focus on long term sustainability which is extremely important. Many organisations also focus on the volumes of custom rather than what the community actually want and I was delighted to see the warm, close relationships that I witnessed FairTrek have built.
I didn't get a chance to go on one of their group treks, but I did get to visit one of the villages, Long Lao Mai, with Mr Kamchaen, a local Hmong guide, and Carine, a French woman who was investigating modern and progressive eco-tourism in Laos as a part of her dissertation for her masters degree. Carine had personally experienced a couple of different FairTrek tours so I was able to get an objective opinion on those as well and her feedback was overwhelmingly positive. There are a range of tours that FairTrek can provide including a stay at the eco bungalow in Long Lao Mai. You can find out more about this tour here.
I would like to add that Tiger Trail, the sister company of FairTrek, do still sell Elephant tours (not riding) which I found personally challenging. However, after a strong discussion with the manager, Tom, in detail on this, I understand their perspective. Elephants always have been and still are unfortunately used for logging all over Laos where they are cruelly tortured and extremely overworked despite it being an illegal practice. There is an extremely high (and growing) demand (from the hugely dominant Chinese market) to interact with and ride elephants. There are plenty of other companies all over Laos that will continue to oblige this service if Tiger Trail abstain from selling the elephant tours. However, Tiger Trail share such a significant portion of the tourism market in Laos, by maintaining ongoing relations with selected camps, they are trying to improve the lives of the elephants and eventually eradicate this form of tourism. As an individual that is strictly vegan and against all forms of animal exploitation, this was hard for me to swallow but I couldn't argue – western tourists may be wising up to the horrors behind animal exploitation but the Chinese demographic are certainly not and sometimes we have to look at how to minimalise suffering if it's not currently possible to eradicate it. If you have any questions, please do contact me directly on this via the contact page. You can also read Tiger Trail's elephant tourism statement here.
Believe in my project and want to help me make a difference? Check out my sponsors page and wish list for details on how you can #JoinTheHappinessMovement